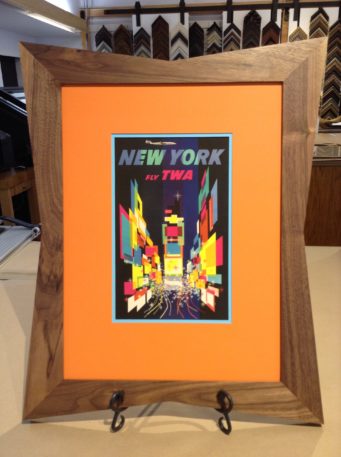 Paintings, photographs and other pictures enliven our homes and work spaces, express our personalities, and can even make us feel better. But to get the most out of our art collection, proper framing is essential.
A Frame is a Powerful Thing
The visual impact and longevity of any picture is highly dependent upon framing. A well-chosen, well-built frame, matting and glass will:
Complete and enhance your artwork, exhibiting it at its best
Separate the image from its surroundings
Draw your eye toward the work of art
Protect your investment from deterioration
Choose Your Framing Wisely
The overall effect of your finished piece will be determined by the size, color and style of the components of your frame. Glass, matting and moulding that complement, but do not overwhelm, the image will add to the picture's appeal and your enjoyment of it. In addition, framing techniques must be appropriate for the medium and underlying base of your picture. Investment art is not framed in the same way as easily replaced posters.
We Can Help
At Village Frame and Gallery, we start every project by visiting with you about your tastes, intention for the picture, and budget so we can help you make design and conservation decisions that meet your needs. Any time you need a picture framed–or simply have a question about framing–call or stop by the shop.