Custom Framing and Original Artwork
in the Heart of Multnomah Village
Are you an art lover? You've come to the right place to:
Preserve and showcase your cherished artwork
Turn priceless keepsakes into a one-of-kind display
Find a new treasure to brighten your world
From original paintings to handmade needlework to sports memorabilia and more, if it can be framed, we will craft an eye-catching solution to protect and enhance it. And yes, we represent many artists working in a variety of mediums. Come browse our gallery in the heart of Multnomah Village–one of the most charming neighborhoods in Portland, Oregon.
---

Featured
It's amazing how much we accumulate over time, scurried away in boxes and stashed under beds or in closets. Recently, one of our customers brought in keepsakes he found in his father's house: a Presidential Unit Citation for the capture of U-505 during WWII and a photo of the US crew at sea on the bow of the submarine. What until you see what we did with them!
Continue reading →
Join us Friday at Village Frame & Gallery where Susan Kuznitsky will be on hand to visit with you and demonstrate her craft starting at 6 pm.
Continue reading →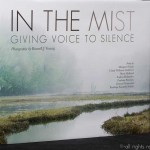 A book of "Painterly" photography illuminated by poetry, an ode to the ethereal wonder of mist, by Oregon artists. Available now at Village Frame & Gallery. Click here to learn more.
Continue reading →
---