We frame a lot of artwork our customers bring home from their travels. For art lovers, is there any better way to bring a special trip or place to mind? We think not! If you agree, here are a few things to keep in mind during your next vacation.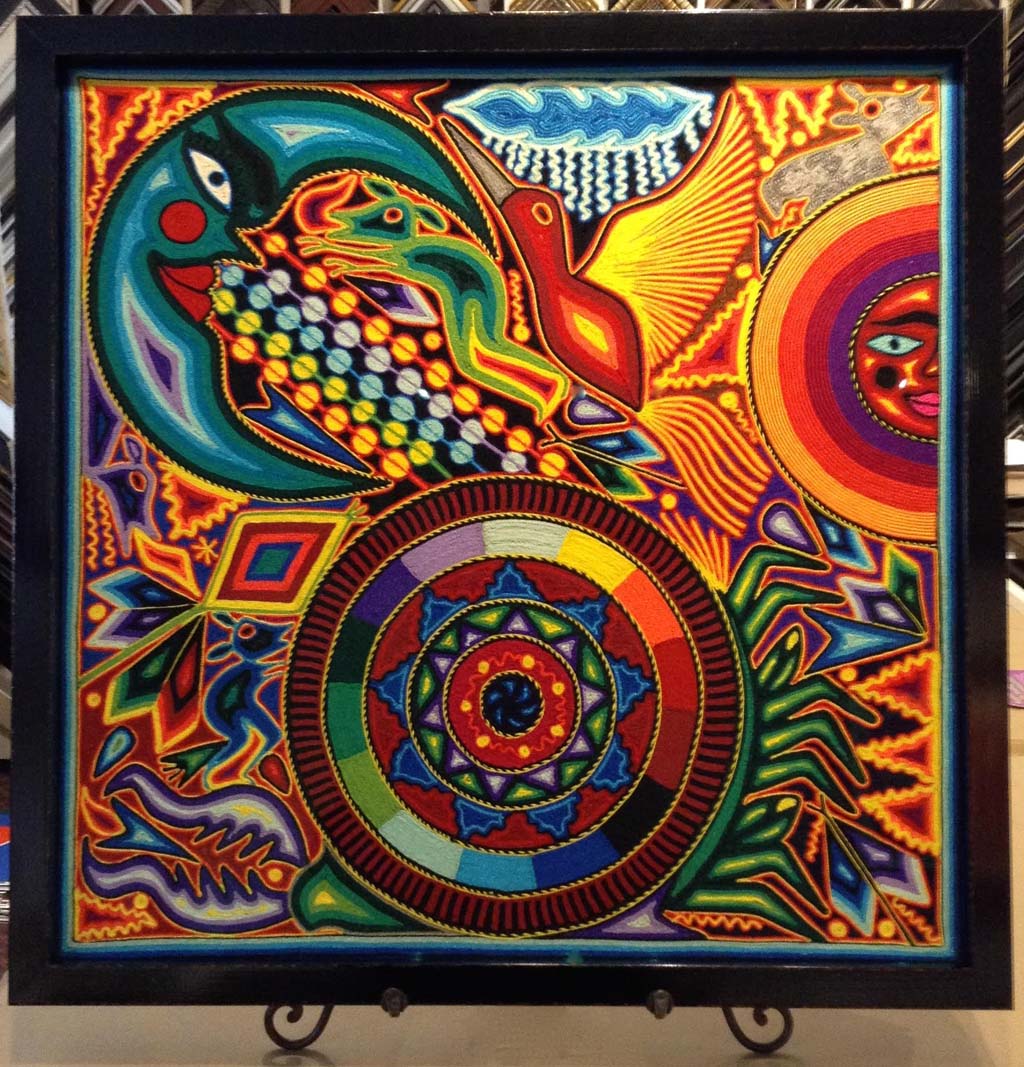 Do Collect Art When You Travel
Skip the cheap trinkets and forgettable souvenir stand offerings. A lot of it was made in China anyway. Art you love purchased from local artists will not only bring you joy for the rest of your life, finding it may produce some of your best memories of the trip.
Alternately, if you enjoy photography, make your own art. Hunting killer images will likely help you see things you would have missed otherwise. When you get home, we can help you turn your best photographs into an art exhibit you'll be proud to show off.
Get to Know the Special Needs of Your New Treasure
Some art is particularly fragile. Depending on it's age or the media used, it made need special care. It's a good idea to learn what you can about the art you buy, so you can make good decisions for it when it arrives home.
The Huichol string art pictured above was a gift from a dear friend in Mexico to a couple from Oregon during their last visit south. Familiar with Huichol string art, the couple knew it was created by laying string into beeswax. Since this art is precious to them and will live in a home heated by wood, the couple brought it straight to Village Frame & Gallery. They were concerned about protecting the yarn fibers from soot, and the underlying beeswax from heat. But, they didn't want glazing that would interfere with seeing the texture or vibrant color of the piece. Museum Glass inside a simple, black lacquer frame provided the protection they need with the clarity they desired.
Large Art Might Not be the Best Value After All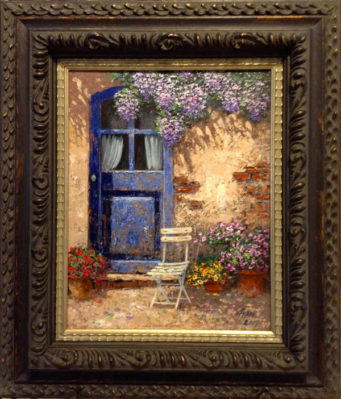 A big statement piece offered by a street vendor at a fraction of U.S. prices can be very tempting, but will it still be a bargain after you ship it home and get it framed? Anything larger than 16″ x 20″ is likely to put a serious bruise on your credit card before you get it on the wall, regardless of how cheap the initial outlay was. You might be much better off picking up a few small pieces that can easily be brought home in your luggage. You'll save on shipping and framing and you will have spread the wealth among several artists.
Not long ago, a customer brought in this diminutive oil painting, which was purchased abroad. In the right frame, it makes a big statement and is a lovely reminder of our client's trip.
Restretching Could Stretch Your Wallet
We often have folks come in with a rolled canvas they brought home in their luggage, only to find out it can cost more to restretch art than it would have been to ship it home stretched. Don't end up with a nasty surprise — price shipping the canvas stretched before you take it apart. If the shipping is under $100, do it. If you have doubts after you know the shipping price, email us the size and some pictures for a ballpark estimate on restretching before making your final decision.
Don't Wait to Bring Your Art to Village Frame & Gallery
Ever bring home a piece of art, stow in a corner for safekeeping until you can get to the frame shop, and then let it languish there for years? It happens, but when it does, you cheat yourself out of the joy of displaying your souvenir, and your art is at the mercy of the elements — unprotected from dust, light, insects, and temperature changes.
Next time, bring your art to Village Frame & Gallery before you unpack your suitcases. While you're catching up with your inbox and sorting through your snapshots, we'll get your new art ready to display.
We're open Tuesday – Saturday, 10 am – 6 pm, at 7808 SW Capitol Hwy, Portland, OR 97219.