We love to travel, to see new places and experience new things. Rounding a corner in an unfamiliar city or town and seeing something astonishing in it's size, complexity and grandeur, the architecture of European cities is something to behold. The buildings are all old by our standards and for that reason are much more beautiful to us!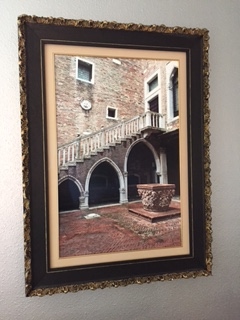 Buildings of grand size can also be overwhelming when we try to photograph them. No matter what I do, grand buildings always look small and insignificant when I take photos with my iPhone. Peter West Carey notes in his Digital Photography School blog "My suggestion with architectural photography is to take those wide angle photos (I certainly did with the picture of Christ Church Cathedral in Dublin, Ireland) but also get into the details. " He mentions looking for patterns in the architecture to create interesting photographs, much like the framed piece above, a courtyard in a European home.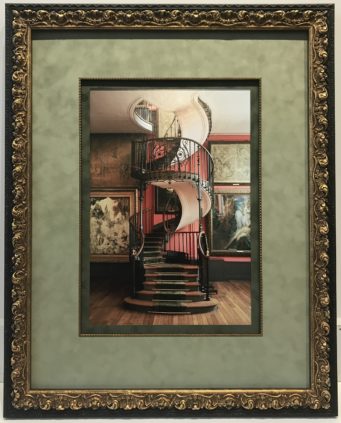 We recently framed the staircase above by Alan King, what fun! The curved lines in the staircase and the details and framing of the paintings informed our choices of rich textural mats, gold fillet and ornate moulding that we used – it turned out beautiful if we say so ourselves!
On the other end of the spectrum, this lovely watercolor by local artist Susan Koch was best served by quiet linen mats echoing the deep shadows in the painting and a wide distressed painted frame. The moulding looks like it could have taken from the siding of the home. The overall effect is something that could hang in most homes from Cape Cod to Cape Defiance.
Have you recently returned from holiday with new artwork? Don't put it in a drawer, only to be forgotten!
Do you have memories in your phone that you'd love to have professionally printed but don't know where to go? Village Frame and Gallery recommends Symbiosis Printing in Hillsdale, Portland. A family owned and operated business, Jeff and Kath are great to work with and produce exceptional photographic prints. You can reach Symbiosis at 503-477-6181.
Regardless of the subject or where you intend to hang your treasure, Village Frame and Gallery is pleased to help you design a framing solution you'll love for years to come. Village Frame and Gallery is located at 7808 SW Capitol Highway, Portland 97219 in the heart of Multnomah Village. Our regular hours are Tuesday through Friday, 10 am to 6 pm and Saturday, 10 am to 4 pm.