It's First Friday in the Village and, well…nothing is going on. OK, that's not exactly true. Several Village shops are working by appointment, offering curbside pickup and online ordering. Many Village restaurants are offering meals To Go and delivery options. At Village Frame and Gallery, in addition to browse by appointment and design by appointment, virtual design and curbside pickup, we are pleased to offer our first Window-only show – tiny paintings by Lacy Lowry and mosaics by Denise Sirchie!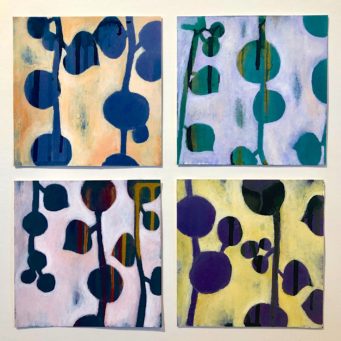 Be Where You Are: Botanicals & Landscapes by Lacy Lowry
These 6×6 in paintings are part of a 100-day-project that I began in the spring of 2019 and ended late summer of that year. I chose to work with the theme of botanicals in the spring. This was a new direction for me, away from abstract, and provided new challenges. I found plenty of springtime inspiration walking around the neighborhoods of SW Portland and by more closely studying my favorite houseplants. At other times, I chose to be more playful, creating abstract renditions of these same flora.
Being a plant lover, it was a deeply pleasurable experience to paint botanicals everyday. Lastly, I explored painting landscapes. ThIs was well suited to summertime as I was able to take inspiration from my travels. This project not only pushed me to improve my technical painting skills, but forced me to prioritize daily time in my studio making art.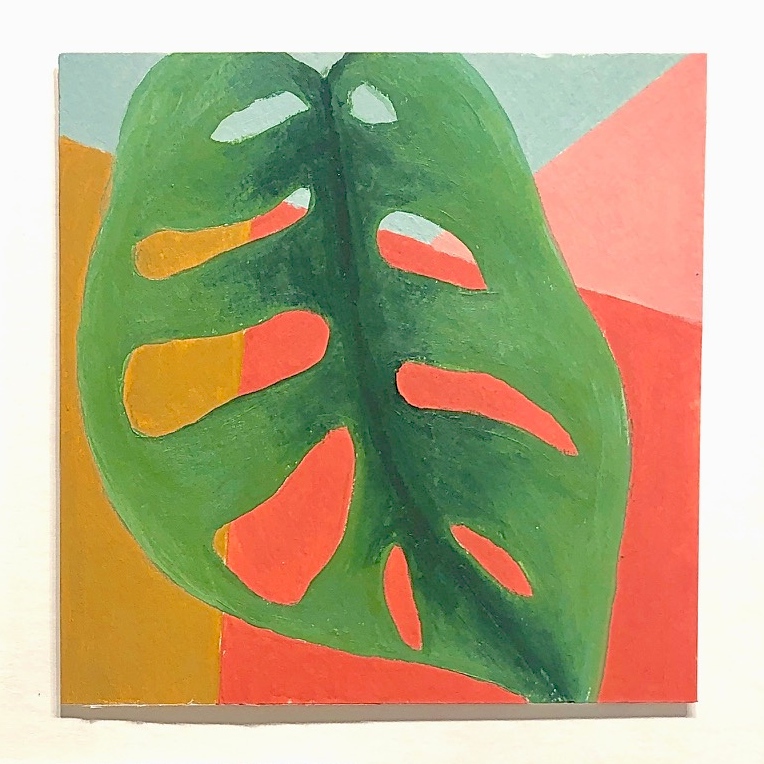 These works speak directly to my connection with the natural world and to my love of color. I hope that viewers experience some of the pleasure that I felt in creating these paintings. Each flower, each leaf, each field, each mountain, convey in some way the energy and experience of that thing or place. My hope was to capture that feeling as well. Although I have since started on other larger bodies of work, I continue to paint small works as they allow for experimentation with new ideas and remain accessible to others. — Lacy Lowry
Our first ever "Window-only" featured artist show, you can see Lacy's friendly, colorful paintings in the main display window at Village Frame and Gallery beginning today, First Friday, May 1st, through the end of the month. Priced for gift giving, you can call us at the shop at 503-245-8001 to purchase one or more! And for each painting purchased, Village Frame and Gallery will provide a $10 gift certificate for custom framing!
Spring Mosaics by Denise Sirchie
Returning to Village Frame and Gallery this spring, Denise has brought several new pieces for our main display window – hummingbirds, ravens, and puppers oh my! Read more about Denise and her work here.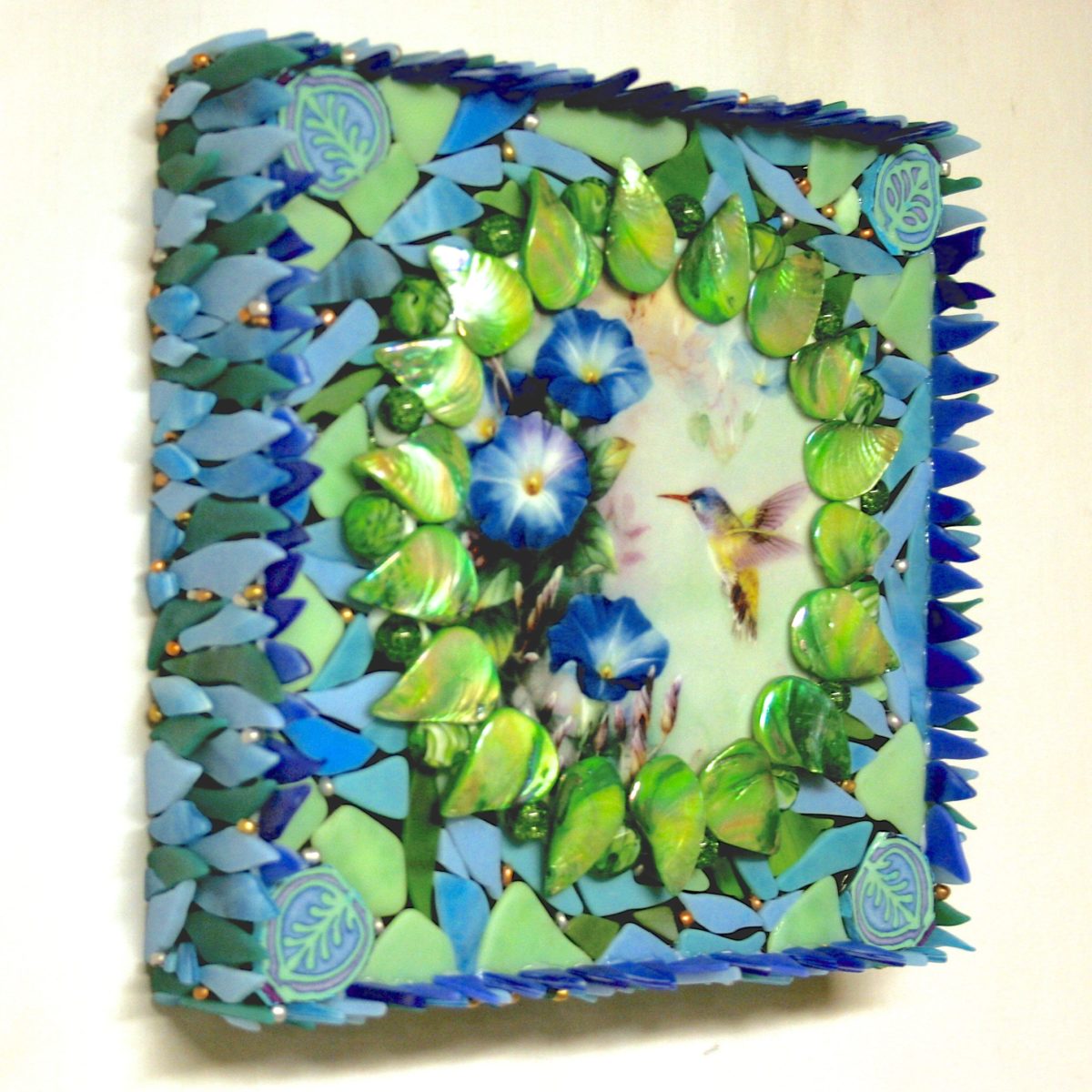 Perfect for Mom, you can make an appointment to see them up close in the gallery. Call us at 503-245-8001!
It's not too late to see pastel paintings by the Dusty Divas!
It's been a weird couple of months and after a great reception at the beginning of March, our featured artist show, The Dusty Divas, was shut down by the Stay Home, Stay Safe order. Then, attempts to kindle the show online through the month of April were thwarted by technology issues – these ladies can't get a break!
Here we are at the beginning of May and pastel paintings by The Dusty Divas still hang on our gallery wall. While they are still here, call us to set up an appointment to see the lovely works of Donna Stevens, Donna Sires, Beth Keyser and Kristen Horn.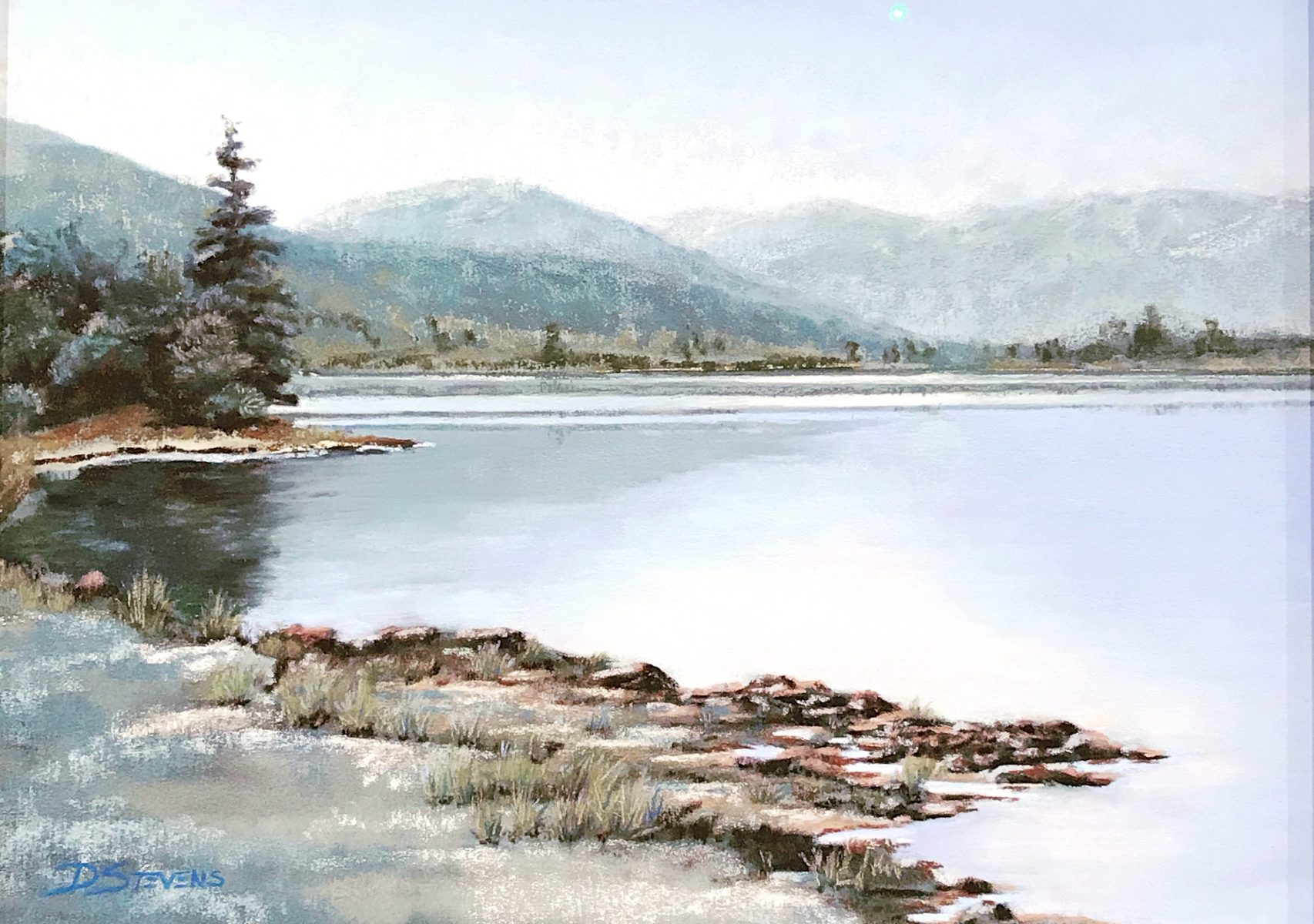 We're here and Mother's Day is just around the corner!
If you haven't got the gist of it yet – yes, we're here! Working behind locked doors, we are available by appointment for framing design or if you want to browse the gallery (observing proper social distancing, of course). We have framed and unframed artwork in the gallery, handmade beaded jewelry, ceramics gift certificates and more. Looking for a gift for mom? Check out our "Window-only" featured artist show or give us a call, we'll be happy unlock the door!
Village Frame and Gallery is located at 7808 SW Capitol Highway, Portland 97219 in the heart of Multnomah Village. While our showroom is currently closed, we are in the shop most days Tuesday through Saturday, 10 am to 6 pm. Call us at 503-245-8001 to make an appointment.