This year, Village Frame & Gallery is looking at the wider body of work that comprises the Pacific Northwest art legacy. Subscribe to our newsletter or follow us on Facebook as we explore art and artists from across the region. 
The Coming of the White Man by Hermon Atkins MacNeil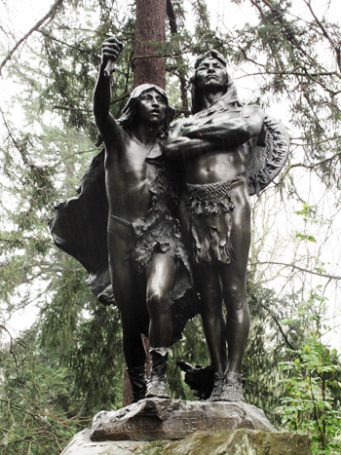 A gift to Portland in 1904 from the family of former Portland mayor David Thompson, The Coming of the White Man is a turn-of-the-century style 8'8" x 6' x 6'3" bronze sculpture. It depicts two Native Americans, presumably watching Lewis and Clark breach the Columbia River Gap. The older figure is often said to be Chief Multnomah.
It was this time of year, in 1805, when Lewis and Clark were traveling through this area on their way to the Pacific. They reached the junction of the Snake and Columbia rivers on October 16th. On October 25th they were at The Dalles and on November 3rd, they camped just west of where Camas is today. They reached the Pacific on November 15th.
Local tribes had been trading with the occasional whites who traveled through the Pacific Northwest since the 1790s, but as we know now, the information Lewis and Clark took home from their expedition would have a great influence on the western fur trade and immigration into the area.  After Lewis and Clark, the number of whites coming into the area rose rapidly, with devastating consequences to the native people.
About Hermon Atkins MacNeil (1866-1947)
MacNeil was an American sculptor from Massachusetts. He is known for his works depicting Native Americans, for designing the Standing Liberty quarter, for the Pony Express statue in St. Joseph, Missouri, and for sculpting Justice, the Guardian of Liberty on the east pediment of the United States Supreme Court building.
See The Coming of the White Man
It's a bit of a hunt, but you will find it in Washington Park on SW Washington Way, not far from the Oregon Holocaust Museum.
Can't get enough art? You'll love Village Frame & Gallery!
Exhibits are open to the public, at no charge, Tuesday – Saturday, 10 am – 6 pm, at 7808 SW Capitol Hwy, Portland, OR 97219.
This month, we're featuring the work of the seven talented Bridge City Artists.