This year, Village Frame & Gallery is looking at the wider body of work that comprises the Pacific Northwest art legacy. Subscribe to our newsletter or follow us on Facebook as we explore art and artists from across the region. 
Want to do something different for Valentine's Day this year? Take someone you love to Heart Beacon!
Heart Beacon is an 18'x 10 1/2′ stainless steel and acrylic chamber that looks like it might blast off at any moment. Touch it, and Heart Beacon comes alive, using light, color, and sound to display your heart beat. Inspired by the work of the Emergency Coordination Center, Heart Beacon was built to literally and metaphorically take the "pulse" of the Portland Community.
How cool is this for Valentine's Day? Or any day when you want to have a little adventure with someone. It's not far from Ed Benedict Park and Kelly Butte Natural Area, so perfect for a date on a sunny day.
Want to step inside Heart Beacon? You can!
You will find it just outside the Emergency Coordination Center, Bureau of Emergence Management, at 9911 SE Bush St, Portland, OR 97266.
About the Artists
Heart Beacon is the work of Joe O'Connell and Blessing Hancock from Creative Machines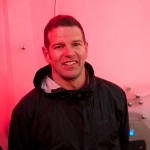 Joe O'Connell grew up making things and turned that into a career. After a long liberal arts education that spanned four universities, he began working for science museums where he designed and built exhibits. He founded Creative Machines Inc in 1995 to design and fabricate interactive exhibits for museums around the world. He began making public art in 2004 in order to reach new audiences.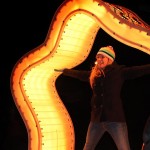 Blessing Hancock owns Skyrim Studio Inc which focuses on site specific sculpture. She utilizes her BFA in Sculpture and MLA in Landscape Architecture to create innovative work for public spaces. She has completed monumental sculpture projects throughout the world and has extensive experience working with city agencies, project teams and community groups.
Creative Machines was founded in 1995 by artist Joe O'Connell. Since then, the company has grown to 30 artists, engineers and skilled craftspeople guided by a shared vision of awesomeness. Their 65,000 s.f. shop in Tucson, Arizona is devoted entirely to pushing the boundaries of public art and interactive exhibits through comprehensive design prototyping and fabrication. Check out the magical machines they are making at CreativeMachines.com.
Can't get enough art by Pacific Northwest Artists? You'll love Village Frame & Gallery!
Exhibits are open to the public, at no charge, Tuesday – Saturday, 10 am – 6 pm, at 7808 SW Capitol Hwy, Portland, OR 97219.