Thinking you absolutely WILL, finally get that new piece of art framed to go in the dining room before Thanksgiving? Swearing this year you'll have your great-grandmother's needlepoint re-framed as a gift for your granddaughter?
Don't Wait! Now is the Time to Bring in Anything that Needs Framing Before the Holidays
Things are already busy and about to get busier, so don't put this off — especially since Village Frame & Gallery is offering 15% off custom framing October 17th – 29th. Just click on the coupons below to print a copy (or bring in this post on your smartphone).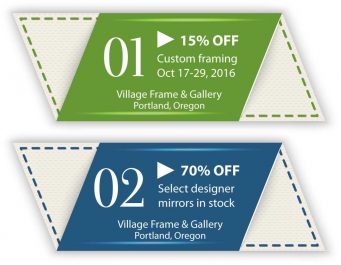 We're Here for You!
Bring your artwork and gifts that need framing to Village Frame & Gallery, 7808 SW Capitol Hwy, Portland, OR 97219 during regular business hours: Tuesday – Saturday, 10 am – 6 pm.