Gene Flores returns to the Gallery with new work in Black and White
Gene Flores' new show, Black and White, features etchings, mezzotints and block prints (all black and white images) which span the intriguing world of his mind and musings.
More about Gene Flores:
I was infatuated with printmaking when I first took a class in 1987 at University of Texas El Paso and since have been making and exhibiting my prints nationally and internationally. I venture from black and white imagery to full color printing, all my works are hand wiped and printed. These are all original prints, that is to say they are not photocopied nor mass-produced. I print a limited edition, usually 10-15 prints per edition. Each edition is unique.
My works are self portraits and are influenced by literature, music, politics, religion and everyday activities. My images have been described as humorous, insightful, and disturbing. Viewers often find my works to be thought provoking and challenging. I enjoy challenging the viewer and the preconceived notions of what we take for granted. Many of my works are playful thoughts and my reaction to the world around me, with mythical creatures and a combination of human and animal characteristics (logic/instinct) playing a vital role. My works allow the viewer to immerse themselves into another world, with reoccurring characters that tiptoe between the surreal and the absurd, a world where anything can and often does happen.
Local sculptor, Chas Martin wows with Voices
Featuring mixed media masks and sculpture, Chas Martin's show, Voices, adds a crisp contrast to the Gallery this month.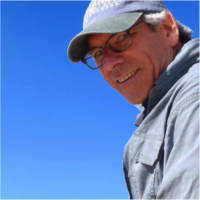 Chas Martin studied visual communications at Pratt Institute. His career as an art director and creative director in Boston, San Francisco and Portland fed his curiosity. Travels drove him to paint. Negative space made him a sculptor. He is a part time studio assistant to master sculptor, Martin Eichinger. The rest of the time, he creates things and occasionally hosts creative sessions in his Multnomah Village studio. 
Statement: Technology touches us everywhere. Mostly it alters our balance. Pure visualization is the ability to see your OWN images, angels, ghosts. It is essential in finding a true path. Visualization is the first step toward realization. Thought precedes reality. Concepts guide action.
My work has always been concept driven. Images that attract me come from books, dreams, conversation, meditation and a mashup of synchronous experiences throughout the day. I can't stop asking questions about everything around me. Everything! What if this was different? How would that look in reverse? Why isn't that thing vivid cobalt?
I imagine archetypal characters in symbolic situations. These are part of my ongoing storyboard – a graphic novel of my own mythology. I explore images from multiple perspectives through sketches, wire frames, clay models, photos of any of these stages, manipulation of those photos, more sketches, watercolor, acrylic, collage, and sculpture. Interaction on so many levels transforms visualization into realization.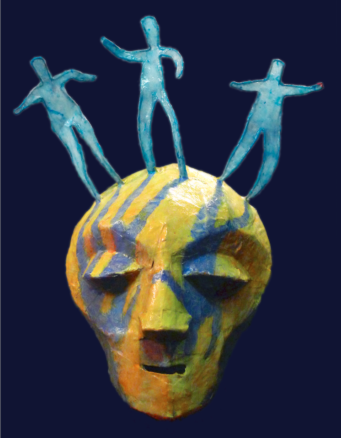 Meet Gene Flores and Chas Martin in the Gallery this Friday!
We're open late for our First Friday artist's reception this Friday! As always, our artist's receptions are free and open to the public, starting at 6 pm, First Friday, at Village Frame & Gallery, 7808 SW Capitol Hwy, Portland, OR 97219.