There's more to caring for your artwork than picking the perfect frame. From limited edition prints to original paintings, framed art needs special care and professional quality materials.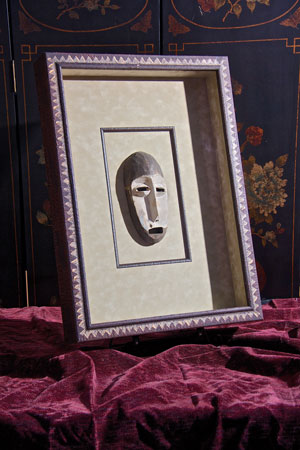 Properly caring for your framed art helps maintain its value and original vibrancy for future generations.  Before, during, and after framing, we recommend the following guidelines when caring for your artwork:
Cleaning Your Framed Art
To clean your framed print, remove it from the wall and place it flat on a table or other stable surface.
Use a soft, lint-free cloth or a soft brush to clean your frame. Harsh chemicals like ammonia, alcohol and other types of cleaners can damage fine finished gold-leaf, acid wash, lacquer and other frame finishes.
Clean glass by spraying cleaner onto a soft cloth and then wiping the glass. This helps prevent liquids from seeping into the frame and making colors bleed or paper buckle.
Clean Plexiglas or other acrylic-type glazing with special Plexiglas cleaner, or with a mild detergent solution, and very soft cotton cloth. Glass cleaners that contain ammonia will cause acrylic glazing to turn yellow and improper wiping will scratch most acrylic coverings.
For your convenience, we recommend and sell Ultra Lite glass and plastic cleaner.
Bring Your Artwork to the Gallery for a Checkup
Framed art should be inspected for wear and damage every few years. Over time, your frame may have scratches that need a touch up, new dust covers, adjustments to the picture wire, or similar simple repairs.
When you bring your framed art into the Gallery, we will inspect for hidden damage and clean it. That's one "window" you don't have to wash yourself.
Here's what we'll look for when you bring it to us:
CRIMPING: Prints are most vulnerable to damage in the unframed stage. Removing it from its storage tube or rough handling when trying to uncurl the print can cause dents and creases. Grasping the print too hard can also cause crimps or dents. It is best to minimize handling your art prints. When you must handle it, wear gloves.
TEARS: Rips or tears in the print, no matter how small should be handled with care, even in border areas that would be covered by the frame. Insignificant tears can turn into gaping holes over time.
ACID BURNS: Acid burn is caused by wood pulp contained in commonly used matboard. Wood pulp contains acids that cause the matboard to turn brown, become brittle and even disintegrate when removed from the frame. We can quickly evaluate the type of matboard your artwork is framed with and discuss the impact it will have on the artwork over time.
DRY MOUNTING: Prints need to be properly adhered to a backing board. Adhesive residue from improperly mounted prints can cause permanent damage. In most designs, secure mounting of the artwork can be accomplished on acid-free materials with non-toxic, reversible adhesive. However, many art mediums and papers are too fragile and must be hinged using the appropriate techniques, pastes, and papers.
MILDEW: Mildew or moisture damage occurs when a print is not kept in a climate controlled area or is exposed to areas with excessive amounts of heat. However, minor condensation can form on glass simply by moving a piece of framed art from air-conditioned coolness to a hot car or display window, for example. This will usually dissipate without damage to the artwork, if the proper spacing between the glass and artwork has been provided by your framer. Otherwise, the print will likely attach to the glass.
The negative impacts on treasured artwork that has been improperly framed, cleaned, stored, or moved are usually permanent and irreversible. That's why we are so committed to following the highest quality preservation practices and teaching you how to avoid these types of deterioration and damage.
Transporting Artwork
When transporting your art, make sure it is protected from the elements and from damage.
Wrap your art in plastic to prevent water damage and use towels or blankets to cushion it. Using protective frame corners or wrapping the art completely inside cardboard and taping it closed will assure safe transport.
Unwrap your art pieces as soon as possible. If leaning against a wall or storage space, make sure they are upright and face to face if there is more than one so the hanging hardware does damage the front of the other frame.
Remember: The safest place for your framed artwork is on the wall.
Whether you have an original painting, fine art print or treasured keepsake, if it needs to be framed, we will design a beautiful display tailored to the piece and your décor to protect and enhance the work for years to come.  Stop by the gallery with your artwork and questions. We will be happy to evaluate your artwork and recommend the best framing options and solutions for you.  The staff of Village Frame and Gallery has over 28 years combined experience framing, preserving and protecting artwork for display in your home or business.