Life Through the Lens of Mosaic
For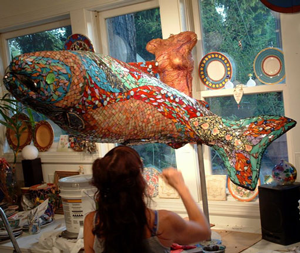 Denise Sirchie, mosaic is her view of life itself: absent of boundaries, void of restriction, free–the latest evolution in a lifetime of expressing herself through art:
My passion for art was awakened around the age of 9; I attended an art class every Saturday each summer through the age of 14. I was taught the basics: sketching, oil painting, pastels, charcoal, still life and portraiture by an inspiring, memorable teacher. As maturity permitted, a short train ride into Philadelphia allowed me to attend the Philadelphia College of Art. I acquired independence, a taste of city life, but more importantly.new eyes. I believe it was then that I began seeing not the ordinary, but the unique possibilities within simplicity.

After college and several years of traveling, I settled in California. Pottery lured my interest and after 4 years of mastering the wheel, clay and porcelain became my new best friends. Upon marrying and then the birth of my son, my art transitioned once more, this time through a child's eyes: simplicity in form, with bold, contrasting colors … as innocent and beautiful as a child. A few years later, we migrated north and settled in Portland. Life was sailing along smoothly until an early diagnosis of breast cancer. Lights flashed, sirens screamed, treatments commenced, and realizations surfaced.

Therapy for my soul and mind was found in mosaics. I had always admired the media; my husband supported my interest and insisted I give it a try. Self-taught through the help of books and friends' advice, I became immersed.

Ten years later, the passion to create and the desire to stay healthy is joined in a marriage of determination. The direction of my art is constantly in motion. The freedom that the media allows is alarming: the reason I love it so. As Ralph Waldo Emerson summarizes: "Artists must be sacrificed to their art. Like bees, they must put their lives into the sting they give." Bzzzzzzzzzzzz
In addition to the mosaic sculptures that draw so many visitors to Village Frame & Gallery, Denise creates stunning architectural mosaics and other commissioned pieces. Her art is included in the book, Mosaic: Finding Your Own Voice, by Brit Hammer-Dijcks, and she is exhibited throughout the western United States. Denise is a member of the Society of American Mosaic Artists and the Pacific Northwest Sculptors.
Village Frame & Gallery is proud to represent Portland mosaic artist Denise Sirchie.
Stop by during October–or any time–to see her original artwork in person. In the meantime, here's a preview of some of her latest works: