"I believe everyone is an artist in some way, whether it is the presentation of a fine meal or the construction of a beautiful home, the wording of a contract or the way a mother raises a child. Each of us has the ability to make art. Mine just happens to be in paint."
About the Artist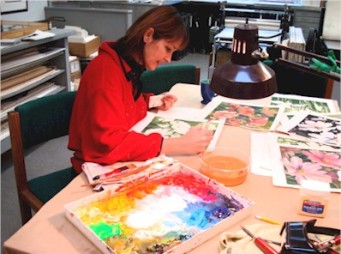 Jennifer Bowman is an award winning northwest artist who has been exhibiting and competing professionally for the past 16 years. She has shown throughout the Puget Sound region, Arizona, California, and Mexico. Her work can be found in both private and corporate collections locally to international collections including France and the Netherlands.
Jennifer and husband, Bill, traveled from Seattle to Puerto Vallarta, Mexico and back again on their sailboat during 1996 and 1997. During their travels, she was able to spend an intensive year of study mastering her techniques. Her paintings focused on colorful market scenes, images of bougainvillea-draped buildings, and realistic renditions of the cruising community's yachts in tropical settings.
When the Bowmans returned to the states, they spent a year in San Diego where Jennifer was commissioned to paint over 40 boat portraits. That number has tripled since then. Her work has graced the cover of 48 Degrees North six times and she has been the Artist for Whidbey Island Race week for two years. The varied and vivid scenic backgrounds of the many boat paintings enhanced Jennifer's ability to portray nature's moods. She is the winner of the coveted 2004 Skagit Valley Tulip poster contest and the creator of the 2004 Edmonds Arts Festival poster as well.
She teaches in her hometown of Anacortes, Washington, gateway to the San Juan Islands, where she divides her time between that, keeping up with her nine-year-old son and occasionally going sailing with her husband.
Other Accomplishments and Awards:
2008 HBO Movie "Taking Chances" set dressing prop
2007/8 Quarto Publishing, London: Acrylic and Watercolor Painters
2005 Washington State Heirloom Birth Certificate Design
2004 Skagit Valley Tulip Poster
2004 Edmonds Arts Festival Poster
2004/5 Anacortes Waterfront Festival Poster
2004 MacGregor Publishing Telephone and Visitor Guides
2004 Northlight Books'; Artists Ref Photo Marine Nautical Material
2001 Edmonds Art Festival; Edmonds Mayor's Purchase Award
1999 Puyallup Fair Exhibition , 200 th Anniversary of Mt. Rainier Award
See Works by Jennifer Bowman at Village Frame & Gallery