Artist's Bio
Maya Eventov was born in 1964 in Leningrad in the USSR. Her work is representative of the quite distinctive modern Russian avant-gardism style of painting. Eventov's paintings are rich with color, light and detail and reflect expert draftsmanship, as well as a sense of artistic well-being and happiness. In the hands of this artist, ordinary interiors and still life become extraordinary. Chairs, flowers, harps and Roman pillars take on personas that are sophisticated and rich, yet whimsical and fun. Each element has its own independent existence within a unified painting.
Eventov began her training as a child in the art schools of Leningrad, where she learned painting, drawing and composition. She graduated from the Leningrad High College of Art, named for V. Muhina, in 1981 and began her career as an artist initially working in children's book illustration and wallpaper design. She worked as a muralist for cinemas and concert halls in Leningrad, Moscow, Erevan and Komsomolsk-na-Amure, as well as many private residences in Toronto and Dundas, Ontario, where she now resides.
She primarily works in watercolors and oil paint and has developed a unique technique combining oil paint with etching. Eventov's watercolors were published in Valencia, Spain and were introduced as prints for the first time in Europe at the Birmingham Art Show '98 in the UK. She has had a number of exhibitions and her paintings are in private and corporate collections throughout Canada and the US.
Learn more about Maya in this episode of Inside the Studio …
Maya Eventov Works Available at Village Frame & Gallery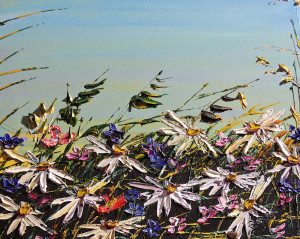 [twocol_one][/twocol_one] [twocol_one_last][/twocol_one_last]