Have you ever tried to create a stunning gallery style art display in your home or office? Then realized, 57 nail holes later that it's not as easy as you thought it would be?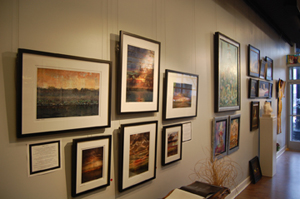 Perhaps you wanted to dedicate space to rotating exhibitions? But decided against it because you would have to patch and repair the wall every time you made a change?
Are you constantly challenged by a special situation like setting up displays in a window or historic building?
Good news! Halsey Cable Display Systems can fix all these problems and more.
Hang Art without Damaging Your Walls
Positioning art can quickly become very difficult. We've all measured carefully, driven the nail, hung the picture, and then realized the nail needed to be half an inch to the left. The more pieces you want to group or line up exactly, the worse the problem becomes. Then, after the exhibit is perfectly positioned, we can't change a thing unless we're willing to start all over. Halsey Display Systems end all that hassle, replacing nails and hangers with a discrete track-mounted cable system that gives you endless flexibility. Picture a little too low? No problem, just slide the gripper up and lock it into place. Want to swap out one or more pieces of your display? You can adjust everything around it in minutes.
Hang Art or Signs in Store Windows
Art posters and pictures can significantly increase the wow factor of your front windows, but only if they are professionally installed. This is another area where we highly recommend Halsey Hanging Systems. Their ceiling track system can be mounted above the window for a clean, upscale look that keeps the focus where it belongs, on your display rather than your hardware. Plus, you will be able to easily change your displays monthly or seasonally.
Hang Art in a Historic Home with Rail Moulding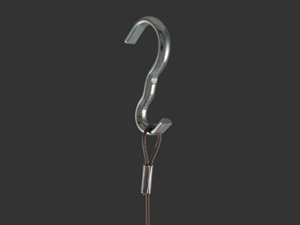 Homes built between 1900 and 1950 often have wood picture rail mouldings installed at the top of the wall. This allows you to hang art from the moulding, rather than damage the plaster walls. If your home or building has this type of railing, all you need is hooks designed to work with your railing and high-strength steel cables. The Halsey system also offers something the original owners didn't have: cable grippers to make height adjustment a breeze.
Call Village Frame & Gallery for a Free Consultation
We will help you design a professional display that can be easily modified to meet your current and future needs. If a flexible, easy-to-customize art hanging system sounds like a dream come true to you, call 503-245-8001.