Portland encaustic artist Karen Story is back at Village Frame & Gallery with a new exhibition. Come meet her in person this Friday — we're open late!
Artist's Statement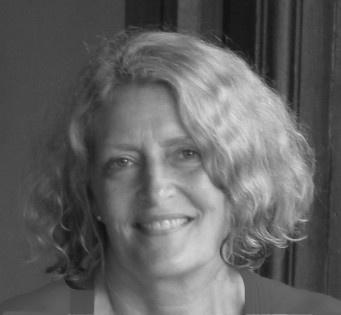 Having been a painter, printmaker, and glass artist, the encaustic medium is a natural progressive step for my work. Encaustic painting combines the very process-oriented work of printmaking with the mysterious translucence and transparency of glass, while demanding a foundation of composition, line, and form.
Encaustic painting guides me to work on the canvas in a direct and flexible way. This allows for many surprises and unexpected changes in composition, form, and color. Layering and removal of the layers keeps this process-oriented painting method somewhat archaeological in nature, as there is much scraping back to reveal parts of the painting's history. A non-attachment to the current phase of the painting develops, and allows a presence and freedom not experienced in other media.
Landscape/nature as a subject allows me to experiment with shape, value, hue, texture, and form creatively. The specific landscapes I am currently working with offer a deep personal connection, which hopefully evokes memory and fantasy in the viewer. The figure and portrait are a great challenge, especially in this medium.
Water is my life's most common recurring theme. It has appeared in vivid dreams since childhood, and in reality, as an adult, water is the element which rules my life. I am an avid swimmer, live part-time on a river houseboat, snorkel regularly, and do underwater photography. It is a challenging element to capture artistically, since it is translucent/transparent, ever-changing, and distorts elements within it, and reflects those on the surface.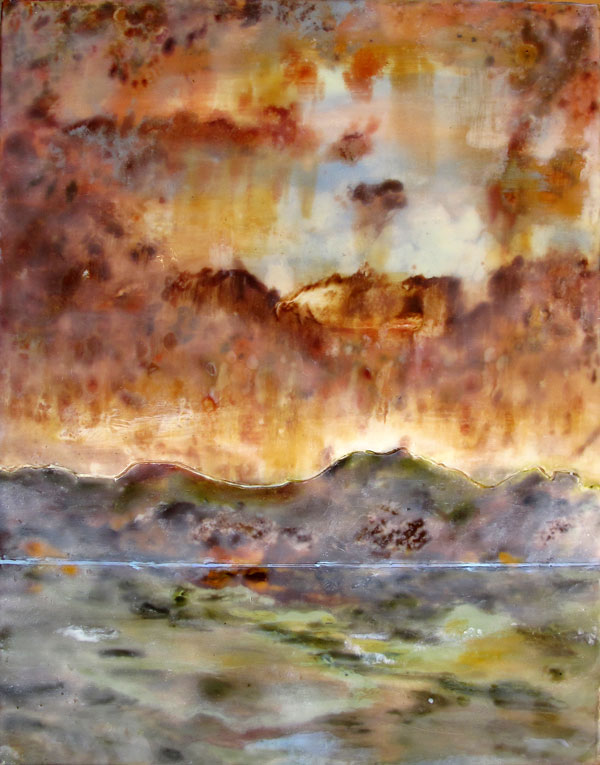 Exhibit Opens July 1st, Artists Reception July 2nd
Join us at Village Frame & Gallery, starting at 6 PM, to meet Karen and see her latest work. We are located at 7808 SW Capitol Hwy, Portland, OR 97219.
Can't  make it Friday? Drop by the Gallery in July during regular business hours. We will be closed on Tuesday and Wednesday, July 3rd and 4th for the Independence Day holiday. Our Summer Hours are Tuesday – Friday, 10am-6pm and Saturday, 10am-4pm. Have a safe and festive Fourth of July!