Meet Photographer Russell J. Young and poets from In the Mist: Giving Voice to Silence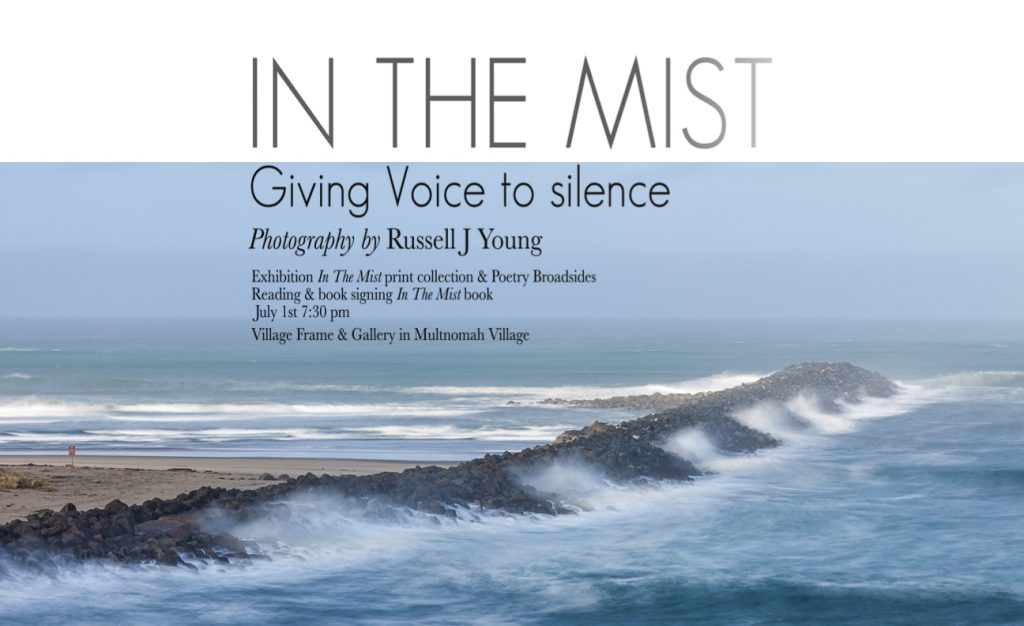 July's featured exhibit will be a collection of photographs and poetry broadsides from In the Mist. Join us July 1st at 7:30 pm for a poetry reading and book signing at Village Frame & Gallery, 7808 SW Capitol Hwy, Portland, OR 97219.
About In the Mist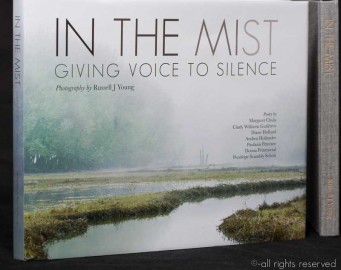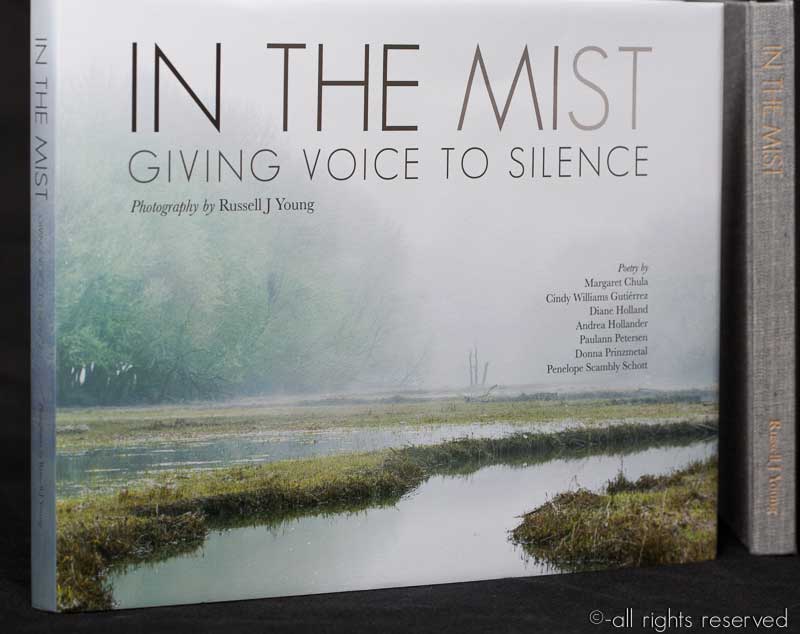 An ode to the ethereal wonder of mist, this spectacular collaboration is comprised of exquisite images from photographer Russell J. Young accompanied by nuanced poems from seven esteemed Oregon poets. With soft, pale breath, the mist casts an undeniable veil of silence wherever it reaches — from the glassy face of a pond to the concrete underbelly of a bridge to the towering shoulders of a pine forest. These mist-clad Oregon landscapes and urban moments, along with their poetic responses, evoke the whisper of stillness. This book binds together poetry and photography in a relationship in which one is not excluded from the other, but rather both are met and bound and emerge as a new wholeness — a wholeness seeking that which is hidden in the mist and that which is revealed: silence, memory, breath. [Read more about In the Mist]
In the Mist Poets: Margaret Chula, Cindy Williams Gutiérrez, Diane Holland, Andrea Hollander, Paulann Petersen (Oregon Poet Laureate Emerita), Donna Prinzmetal, Penelope Scambly Schott
About the Photographer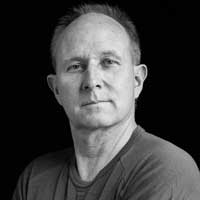 Russell J. Young is a commercial and fine art photographer based in Portland, Oregon. Russell has traveled and photographed in over 30 countries. His genres include commercial, fine art, portraiture, fitness, sports, performing arts, landscape, outdoor adventure, travel and culture. Russell believes each genre compliments the end result of the others. The completion of his new SE Portland studio has allowed Russell the space to meet with clients, and an environment to express long held artistic inspirations.
His fine art edition prints are in private and public collections and embassies and have been exhibited in Europe and the USA. His photography is represented by agencies in London Stockholm and Seattle. [Read more about Russell J. Young]
About the Poets
Paulann Petersen, Oregon Poet Laureate (2010 – 2014), and Dianne Holland will be reading their works from In the Mist July 1st.
UPDATE: Local poet Donna Prinzmetal will also be reading her works from In the Mist at this special First Friday event.
About Paulann Peterson
Paulann Petersen, Oregon Poet Laureate Emerita, has six full-length books of poetry, most recently Understory from Lost Horse Press in 2013. Her poems have appeared in many journals and anthologies, including Poetry, The New Republic, Prairie Schooner, Willow Springs, Calyx, and the online Poetry Daily. She was a Stegner Fellow at Stanford University and the recipient of the 2006 Holbrook Award from Oregon Literary Arts. In 2013 she received Willamette Writers' Distinguished Northwest Writer Award. [Read more about Paulann Peterson]
About Dianne Holland
Diane Holland has been a painter and printmaker, as well as a poet. Her first chapbook, The Hand Stayed From Its Desire, was selected by John Poch, editor of 32Poems, for the 2006 Predator Press chapbook prize and was nominated by Eleanor Wilner for a Pushcart Prize. Her work has also appeared in Lumina where the poem, "How It Happens," won the 2006 poetry contest, and in Gulf Stream Review where the poem "Of a Certain Age" won the 2005 poetry contest. She was also a finalist for the 2004 Ruth Stone Prize.
In the Mist is Available Now at Village Frame & Gallery
Get your copy on First Friday, or stop by any time in the month of July during regular business hours: Tuesday – Saturday, 10 am – 6 pm.