This year, First Friday and Cinco de Mayo fall on the same day — what a great excuse to get out of the house and spend the evening in Multnomah Village! We're open late and have a brand new show featuring the work of local artist Scott C. Johnson.
About Watercolor Artist Scott Colin Johnson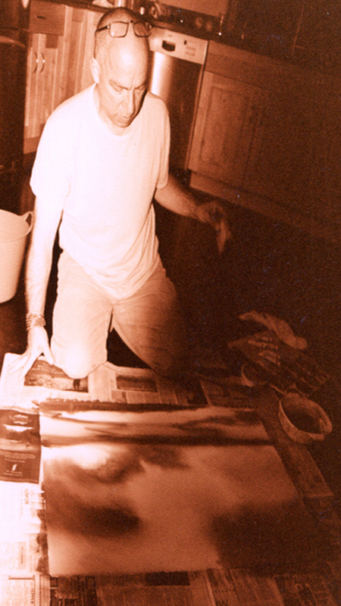 Although Scott C. Johnson's landscape studies are rooted in plein air painting, early-on he began to add the little touches that rouse the imagination—the faint treetops that indicate a valley beyond the hill, or the tiny glint of water that tantalizes over a grassy dune. These hints at an unseen landscape beyond the one we see, were an introduction to his dream world.
Scott developed the soft washes of the Japanese tradition, as well as the refined linework of the Persian miniature. As he grew more confident with the brush, he also became more involved in meditational techniques, and the painting became more concerned with recording a process, a trance state, a finding of the happy accident, and less with a specific reality.
He is a developed sensual being, with an appreciation for music, dance and garden design. Scott's love of nature, refreshed by frequent trips and hikes, is evident in his work, but its mood, often portrayed by impending weather, dominates the objects in the landscape. There are subtle references to change in the clouds and stronger references to death and loneliness in the leafless trees of his latest work, yet the mood is never hopeless, but lets us know that the next season, bringing the tiny leaves of Spring, is just beyond and approaching.
Scott's work has been exhibited on the west coast since 1986 and is represented in private collections throughout the United States, Canada, Europe, and Japan.
Artist's Statement
In the act of painting
it is my intent to express a beauty
my soul yearns to manifest
in imagery of lush colors and
open space.
The images often arrive out of waking or,
quiet [trance like] moments in their entirety.
When I am available to chase them down,
the ceremony of starting blossoms
into a myriad of new directions.
Thus the chase continues
and I will often not know the direction of a painting
until it is over half way done.
Mastering patience of the medium
and perserverance of vision
is the practice I have chosen.
Join us First Friday for the Exhibit Opening and Artist's Reception
We're starting at 6 p.m. and everyone is invited. Village Frame and Gallery is located at 7808 SW Capitol Hwy, Portland, OR 97219. Can't make it this Friday? Our exhibits are always open to the public during regular business hours: Tuesday – Saturday, 10 am – 6 pm.