Time and the environment are the mortal enemies of your artwork. Preservation is one of the most important reasons to frame pictures and heirlooms. But not all framing is good framing. We find frequently, even with pieces that were "professionally" framed, that the materials used — mats, backing boards, glass — and the mounting methods employed have actually been damaging the artwork.
When Framing Hurts
Recently, a customer brought in an item that needed reframing because the glass had broken. This striking, detailed lithograph was already deteriorating due to substandard framing materials. Standard glass without UV protection had been used and the image showed signs of fading.
There were also obvious burn lines from the mat and tape that had been used. (Please, no more using  regular cardboard and masking tape to back framed art!)
Long-term, all this damage was going to get much worse. We consulted with our client about the materials and the damage to the frame itself. Wisely, the client chose to preserve this beautiful lithograph with conservation methods and materials, stopping any further degradation in its tracks. The results were worth it.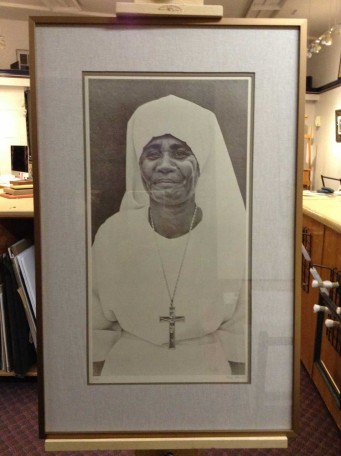 This is just one example of the many pieces we have had to rescue from it's own frame. You'd be surprised at the materials that get used, especially when the art wasn't framed by a professional knowledgeable in conservation practices. We even had one picture come in and found the backing board was cardboard from an old Whirlpool dryer box. Whirlpool may use fine cardboard to protect products during shipping, but corrugated cardboard is highly acidic. That dryer box started destroying the artwork the minute the two were sandwiched together in a frame.
Older artwork, even if custom framed, may be at substantial risk as well. Just a few decades ago, the conservation materials used today didn't exist. It was not unusual for framers to use masking tape, regular cardboard, and untreated mats, which are all highly acidic. They didn't have much choice, frankly. So, if a piece is over 30 years old and you want it to last for many more decades, please bring it in for a check up.
For the Art You Love, Trust Village Frame & Gallery
Our clients keep coming back because they know it's what's inside that counts and they know they can count on us not to cut corners with materials or craftsmanship.
To conserve your fine artwork, heirlooms, or collectibles, bring them to our shop at 7808 SW Capitol Hwy, Portland, OR 97219. We're open Tuesday – Saturday, 10 am – 6 pm, or by appointment.