The colors of spring have finally sprung — just in time for a featured exhibit that is bursting with color itself — so come see us this Friday and meet Tamara Hufford-Wong.
Tamara Hufford-Wong Artist's Statement
Color has always been a huge part of my life; lifting me up when I feel down and filling me with joy. Growing up in a small Ohio farm town working at my folks five and dime store; the best way you could pay me – was with a new pack of Crayola crayons. I could 'color' and didn't have to think – about anything.
That's how I paint now days, with pure emotion. It's always about the color and how it mixes with the other colors. I use acrylic paint because I like its thick creamy like texture, there's no smell and I can clean my brushes with water. Sometimes I use brushes; many times, I paint with my fingers. That's not dirt in my fingernails, it's paint!
I call my style of painting "Naked". It's all about: pure emotion, freedom and breaking the rules. My mood decides how and what I paint. Will I lay color down slowly with care, or do I want to throw it down with such force that it cuts through all the other colors already on the canvas? I think I'll go for sheer abandon!
Small town girl moves to the big city. Journey to get here involved lots of education (I loved being a professional student), retail, hospitality and the bright lights of Hollywood. God, family and an open mind is most important; communication is key. I was a professional speaker for years. Now, I communicate with my art. I hope you like it.
Feast your eyes on a few of Tamara's paintings …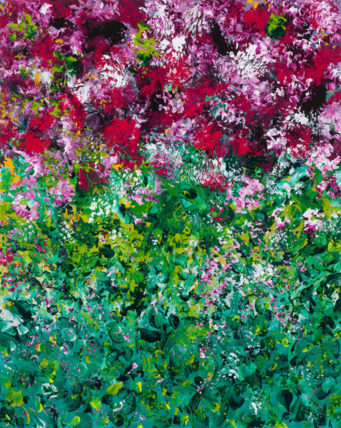 Artist's Reception Friday, May 4th, starting at 6 pm
Village Frame & Gallery is located in the heart of Multnomah Village: 7808 SW Capitol Hwy, Portland, OR 97219. Our First Friday Artist's Reception for Tamara Hufford-Wong is free and open to the public. Can't make it Friday? You can see Tamara's work throughout May during our regular business hours: Tuesday – Saturday, 10 am – 6 pm.