In the gallery this month, Amerinda Alpern with new kinetic sculptures paired with encaustic collographs by Dianne Jean Erickson. Join us on First Friday for a reception with Amerinda Alpern at 6pm!
Amerinda Alpern — Drawing with Stick and Stone
This body of work reflects my exploration into kinetic line and form. I present them as maquettes (small scale models) for future explorations.
The apple and fig tree must be pruned in the winter, a yearly ritual. Then what? Compost, firewood, wattle fencing, what are the possibilities? Last winter I chose to start bending and shaping a few of these cuttings instead of disposing of them as kindling or compost.
When is it acceptable to use a natural material as a medium? My apple tree doesn't ask these questions of me… but art making does. Sorting through the piles of wood scrap, ideas arrive, a vision emerges until the selection of right thickness and length of material began to take shape. Bending, drying, sawing, sanding, pinning, wrapping and painting are meditative acts. Finally, my favorite part, bringing balance to complete the process.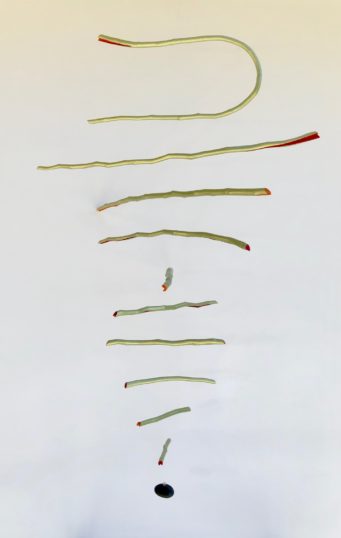 Dianne Jean Erickson – Encaustic Collographs
Each day working in my studio I start not knowing what image will emerge. I allow myself the freedom of indecisions, improvisations, and impulsiveness in my work, and that leads to exciting discoveries. Subjects of my paintings and prints vary depending on ideas that arise.
I use multiple mediums including, but not limited to, encaustic, acrylic, oil and cold wax, and collage. I'm impatient by nature, my process is intuitive, I most enjoy the journey of creating, figuring out what works; what to keep, and what to abandon, until the piece works for me. I have no compulsion to save every work I do. Many become the layered history for a new piece.
Creating art energizes me, it's a place where time is altered, where all my feelings and emotions appear at some time or another; pleased, tired, upbeat, excited, harried, surprised, and hopefully at some point, satisfied."
Read more about Dianne Jean Erickson here.
Don't miss First Friday in the Village!
Village Frame and Gallery is located at 7808 SW Capitol Highway, Portland 97219 in the heart of Multnomah Village. Our regular hours are Tuesday through Friday, 10 am to 6 pm and Saturday, 10 am to 6 pm.