Although Madaline Janovec passed away March 4, 2011, she is still one of Portland's favorite artists. She left an indelible impression on everyone who knew her. This month, Village Frame & Gallery is featuring Madeline's work in a special exhibit on display in the shop. Join is for First Friday, September 5th, or our Open House, September 6th to see Madeline's work in person.
Artist's Statement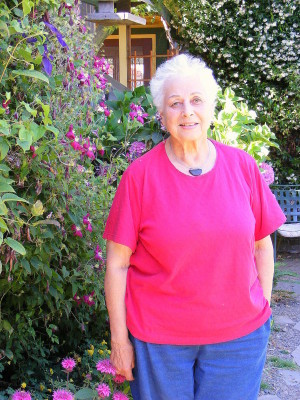 I grew up near the ocean in Redondo Beach, California, but I fell in love with Oregon's lush, green, wet, mossy scenery while on a trip with my parents at age 14. Oregon felt like heaven to me even at that young age. After studying art at California State University Northridge and California College of Art and Crafts in Oakland, I was finally able to move to Oregon in 1965 with my husband who had enrolled in Portland Museum Art School. I was pregnant at the time with my only child.
In 1973, I moved with my young daughter 40 miles northeast of Portland up the Washougal River drainage area in Washington State onto my family's 80 acres of forest – 1200 feet above sea level. The location, fairly remote with very few people living nearby, provided lovely views of Mt. Hood and the Upper Washougal Canyon. Perhaps the beauty and the privacy of this space were contributing factors to the spiritual awakening I experienced while living there. My journey into the depths of self-awareness and discovery, allowed me to understand the oneness and connection of all things in life – a profound awareness that affected me deeply and has had a tremendous impact on my life.
Thirty-six years have passed since then and through the years I have come to understand that I have a very deep connection to the earth, and I often feel this connection has intensified with age. In looking back at my art over the years, I realize the birth of my only child and living in the forest (both very grounding experiences) had an enormous influence on the technique and subject matter of my work. My recent travels to Asia have strengthened my mystical connection to certain elements found in nature – rocks, soil, tree bark and moss, and my current work (drawings, paintings, prints and jewelry) seem to reflect this.
I have come to understand my life's journey has always had a deep impact on my artwork, and looking back through the years, everything seems to make sense to me now.
Madeline's Life Story
Learn more about her in The Oregonian article "Life Story: Madeline Janovec, a pioneer for women artists."