Honestly, that depends.
You don't need custom framing for every piece of artwork. Your kindergartner's finger paintings do very well with nothing more than a simple refrigerator magnet. Easily replaceable digital snapshots need a sturdy, functional frame and no more. But, there are times when you should hire a professional framer. Fine art and priceless keepsakes, for instance, require specific safeguards if you want them to last.
The Smart Money is on Reframing the Whole Question
Sometimes, opting for the smallest initial cost is the most expensive mistake you can make long-term. Certainly that is true when you are trying to preserve the fragile medium used to create art. Paint and fabric deteriorate fairly quickly when exposed to the elements. You probably know that because you have to repaint your house every few years and replace clothing regularly. You likely have boxes of photographs from your childhood that are faded and curling by now. Conservation framing is the means by which you prevent your precious art and images from the same fate.
Think of framing like packing a suitcase for a very long journey. You can throw your expensive wool suit or delicate hand-stitched kimono into a chintzy plastic suitcase and hope it arrives undamaged. Or, you can pack the items you cherish into high-quality, protective, durable materials that allow them to survive the journey. What you are paying for, when you buy the good suitcase, is preservation. It's the same with custom framing.
So, the smarter questions are …
When I Hire a Professional Framer, What is My Return on Investment?
Answering that question requires basic knowledge of what goes into building a proper frame for valuables. In an extremely small nutshell, the amount you pay for professional framing buys:
Design, materials, and craftsmanship all factor into the price of the finished project.

Design: Your matte and frame should enhance, rather than detract from, the art. This is when working with a framer who understands art theory makes all the difference. There are seven elements of art: line, shape, form, space, texture, value, and color. Artists use these elements, along with design principles, to compose the finished piece. Custom framers examine those elements and principles to choose framing that appears integrated with the artwork and continues the artist's message, but does not compete with the art. Framing design can literally make or break the visual appearance of art, affecting your enjoyment of works you are keeping and the price of pieces you are selling.
Materials: Archival materials are crucial for defending artwork from environmental damage. Craft store framing is relatively inexpensive because it is made cheaply with inferior materials: matte and backing may be labeled "acid-free," but usually contain wood-based paper that breaks down over time to produce acid; the glass does not provide sufficient UV filtering; moulding is poorly constructed. Professional-grade framing is in an entirely different class. It is more expensive, but pays for itself by protecting your art long enough to allow it to increase in value.
Craftsmanship: How a piece is mounted and enclosed within the frame, and how the frame itself is constructed, are just as important as the materials used. Art must be mounted properly, based on its media, and not touch the glazing or moulding. The corners of the frame and backing should be secure to keep out airborne contaminants and insects. Amateur mistakes during this stage of framing can completely negate the work put into design and the money spent on conservation materials.
How Can You Get the Most for Your Framing Dollar?
One of the best ways to save on custom framing is to avoid costly mistakes by working with an experienced professional.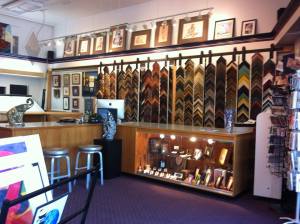 At Village Frame & Gallery, every project starts with a collaborative design consultation to:
Choose the best style and color of matte and framing so your finished piece will look fantastic on your wall
Evaluate your artwork and advise you of the materials required to protect it
Asses the value of your art over time to determine how much you should invest in framing
Help you make your final decisions knowledgably
After the consultation, we continue to deliver the most for your money through the use of professional-grade materials and fastidious craftsmanship.
Ready to invest in your artwork? Bring it to Village Frame & Gallery today to learn why our clients keep coming back year after year.