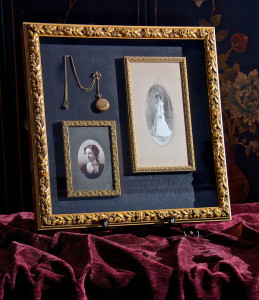 We don't mean to get personal, but how many unframed pieces of art do you have in the back of your closets? You know, the ones you keep thinking you should pull out and bring in for framing? If you're like some of our friends, there are several pieces stuck back there in the dark.
We get it, we have a similar problem with surplus materials. We've got a big stack in the back room and it's time to do something about it. So, this month we're offering big savings on surplus moulding and matting for 16″ x 20″ pictures and smaller.
How Can You Save Big on Surplus Framing Material?
When we order material for a custom framing job, we have to buy minimum lengths of moulding, often more than we need to complete the job. It's the same with mats. There is often "fall out" or extra after we cut what we need.
These are beautiful, top-quality materials, so we store the excess until we have another, smaller project for the same moulding or matting. Of course, you know what happens, eventually the storeroom starts to bulge at the seams. That's why we're selling our surplus materials at huge savings right now to anyone who tells us the Word of the Month for February.
Grab your smaller art out of the closet and head on down to the Gallery to get in on the savings. What could be better for chasing away the deep winter blues than finally getting to hang and enjoy artwork you love?
What is the February Word of the Month?
Glad you asked! Subscribe to Village Frame & Gallery News, it's free, and you'll receive the Word of the Month every month. If you missed the last newsletter and still want to save on surplus material, go ahead and subscribe now and we will send you February's Word of the Month.
[button link="http://www.villageframeandgallery.com/contact-find-us/subscribe-village-frame-gallery-enews/" bg_color="#6b2545″ border="#6b2545″" window="yes"]Subscribe to Our eNewsletter[/button]