The weather is lovely and it's socially distanced First Friday in the Village! Things are a bit different, but shops are open and extending their hours (and some are having great sales!) So come on out tonight, enjoy a beverage or dinner al fresco and stop in at Village Frame and Gallery to see the new show in the gallery – Acrylic paintings by Liz Thoresen. Her show opens today through the end of September. We're open tonight until 7pm and hope to see you!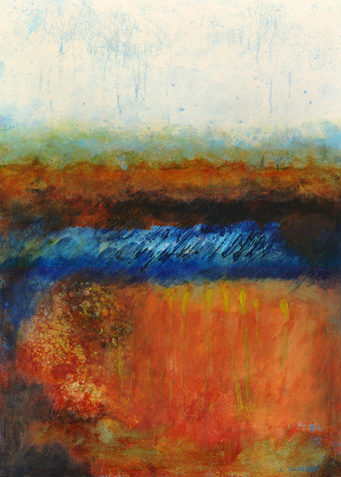 About Liz Thoresen
Liz Thoresen pursued her artistic passion from an early age and became an Art teacher in 1973. Her interest at the time was Ceramics and she moved to Australia where she taught High School art and Ceramics at Caulfield Institute of Technology in Melbourne. After returning to the United States in 1980, she and her husband owned and operated a veterinary clinic for 26 years.
She has since retired and has been able to pursue her passion of painting full time. An award wining artist, she has participated in many local and national group and solo shows. Her art has been published in two books and on the cover of the international magazine, the Journal of American Veterinary Medical Association. She is a member of the the International Society of Acrylic Artists, and the International Society of Experimental Artists.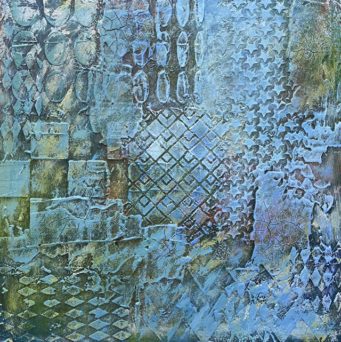 Publications: Her painting "The Ride of Your Life" was included in Lesley Riley's books "Inspirational Quotes Illustrated" and "Quotes Illustrated" and her painting "Gizzy" was on the cover of the February 2015 issue of the international magazine, the Journal of American Veterinary Medical Association. "Staying the Course" was selected to be included in the Q1 2018 international magazine, 1340. Her painting, "Whispers in the Grove" has been selected by the US State Department for loan at the US Embassy in Brunei.
Village Frame and Gallery is located at 7808 SW Capitol Highway, Portland 97219 in the heart of Multnomah Village. Our adjusted regular hours are Tuesday through Friday, 10 am to 4 pm and Saturday, 10 am to 2 pm. You can call us at 503-245-8001.