It's officially Golden Ticket time!  Nov. 16 through Dec. 31 participating Merchants in Multnomah Village and Hillsdale will be offering a special shopping program.  This is a great way to "Shop Local" and support local jobs and businesses! Village Frame Gallery will offer 10% off ready made frames and custom framing if you bring us a Golden Ticket from another shop.  And when you spend $10 on anything in the gallery, we give you a Golden Ticket to use for discounts, prizes or specials in other participating shops.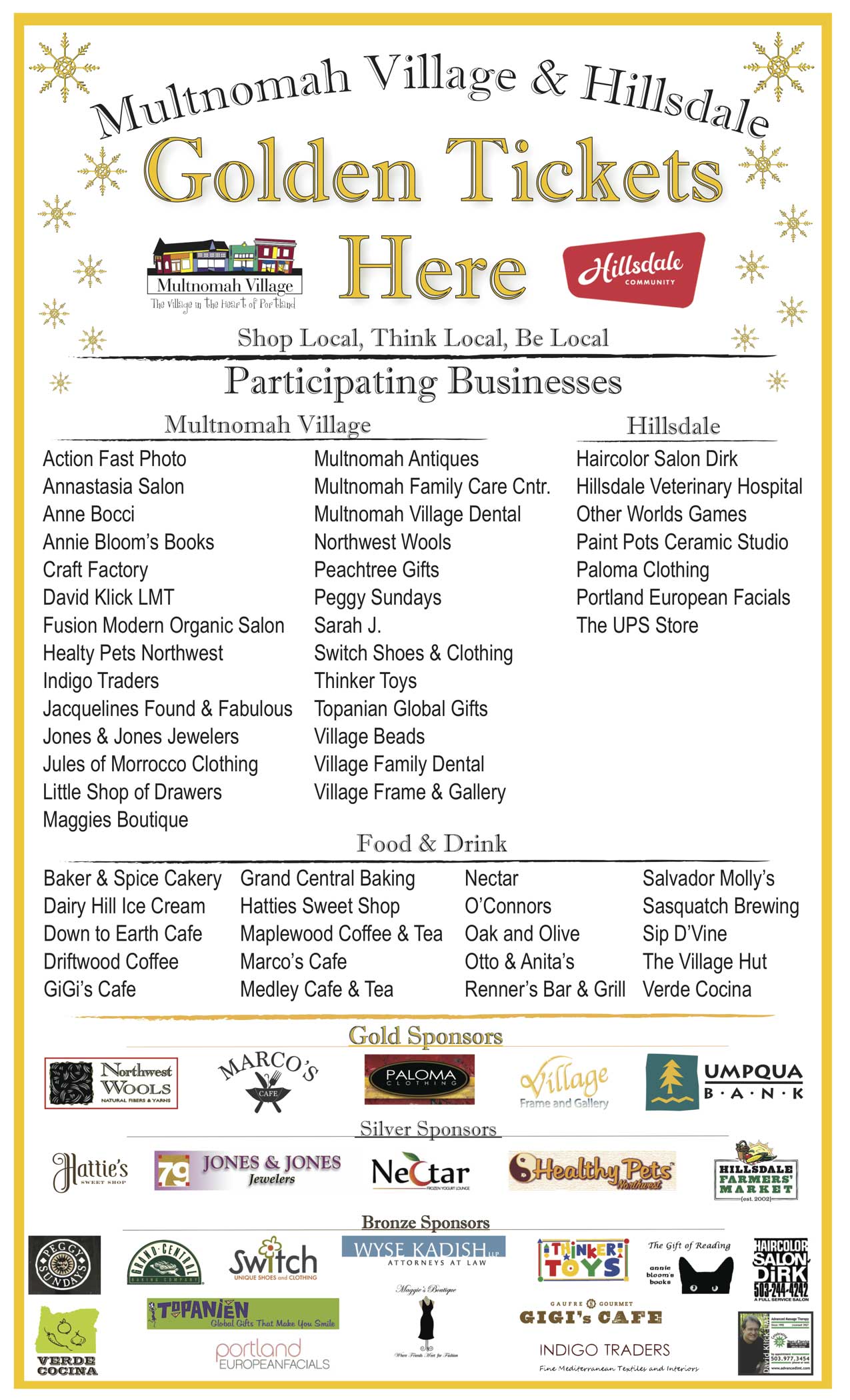 Multnomah Village Participating Businesses
Action Fast Photo
Annastasia Salon
Anne Bocci
Annie Bloom's Books
Craft Factory
David Klick, LMT
Fusion Modern Organic Salon
Healthy Pets Northwest
Indigo Traders
Jacquelines Found & Fabulous
Jones & Jones Jewelers
Jules of Morrocco Clothing
Little Shop of Drawers
Maggie's Boutique
Multnomah Antiques
Multnomah Family Care Center
Multnomah Village Dental
Northwest Wools
Peachtree Gifts
Peggy Sundays
Sarah J.
Switch Shoes & Clothing
Thinker Toys
Topanian Global Gifts
Village Beads
Village Family Dental
Village Frame & Gallery
Hillsdale Participating Businesses
Haircolor Salon Dirk
Hillsdale Veterinary Hospital
Other Worlds Games
Paint Pots Ceramic Studio
Paloma Clothing
Portland European Facials
The UPS Store
Food & Drink Participating Businesses
Baker & Spice Cakery
Dairy Hill Cream
Down to Earth Cafe
Driftwood Coffee
GiGi's Cafe
Grand Central Baking
Hattie's Sweet Shop
Maplewood Coffee & Tea
Marco's Cafe
Medley Cafe & Tea
Nectar
O'Connors
Oak and Olive
Otto & Anita's
Renner's Bar & Grill
Salvador Molly's
Sasquatch Brewing
Sip D'Vine
The Village Hut
Verde Cocina
Golden Ticket Gold Sponsors
Northwest Wools
Marco's Cafe
Paloma Clothing
Village Frame & Gallery
Umpqua Bank
Golden Ticket Silver Sponsors
Hatti's Sweet Shop
Jones & Jones Jewelers
Nectar
Healthy Pets
Hillsdale Farmers' Market
Golden Ticket Bronze Sponsors
Peggy Sundays
Grand Central Bakery
Switch Shoes & Clothing
WYSE Kadish, LLP, Attorneys at Law
Thinker Toys
Annie Bloom's Books
Haircolor Salon Dirk
Verde Cocina
Topanien
Portland European Facials
Maggies Boutique
Gigi's Cafe
Indigo Traders
Advanced Massage Therapy