3 Ways to Avoid Mall Traffic and Save
Smart holiday shoppers are heading to Multnomah Village, starting this weekend! Want to have fun, support local businesses, and save on unique gifts? You need to know about:
1. Golden Tickets
Shop in Multnomah Village and Hillsdale to collect Golden Tickets that qualify you for special savings at more than 40 participating businesses. This year, Village Frame & Gallery is offering 10% off when you present a Golden Ticket. Buy from our shop and get a Golden Ticket you can use at neighboring businesses. The more you shop locally between November 15th and December 31st, the more you save! Watch the Multnomah Village Business Association webpage and Facebook page to stay up-to-date on specials throughout the season.
2. Little Boxes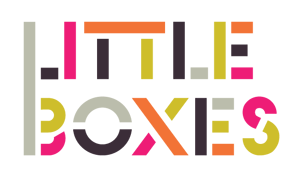 Shop locally on Black Friday and Small Business Saturday for savings and the chance to win prizes at participating Little Boxes stores. Friday, November 28th and Saturday, November 29th, from 10 a.m. to 6 p.m., shoppers can get 10% off plus be entered to win shopping sprees, an iPad, gift certificates, and more. If you have an iPhone, download the Little Boxes App to play along digitally. If you don't have an iPhone, no problem. Stop by Village Frame & Gallery to pick up a Little Boxes Passport. Every time you visit a participating merchant, you will be entered into the Little Boxes raffle, and there is no limit to the number of times you can enter. Earn bonus raffle entries when you make purchases during event and unlock 10% savings at the next Little Boxes merchant you buy from. All the details, and the iPhone app, are at  the Little Boxes website.
3. Ready-Made Frames and Gifts from Village Frame & Gallery
The possibilities are nearly endless and the savings are built-in when you purchase high-quality ready-made frames from Village Frame & Gallery. We also have unique gifts from local artists, 50% off select mirrors, and lots of great ideas to help you please everyone on your list while supporting the local art and small business community.
Need something custom framed? Make sure your project will be gift-wrap-ready in time by bringing it in today!