It's a feast for the eyes at the Gallery this month!
Looking for something to do this week that doesn't include getting soaked and cold? We suggest soaking in some local art at Village Frame & Gallery, followed by dinner nearby. This month, in the Gallery: Anya Coxworth, Karen Story, Olive Eng, Patricia Giraud, and Violet Blackwood, with Denise Sirchie. The exhibition is free and open to the public during regular business hours, Tuesday – Saturday, 10 am – 6 pm, until the end of November at Village Frame & Gallery, 7808 SW Capitol Hwy, Portland, OR 97219.
Want to know more about these Portland artists? Read on …
Anya Coxworth
Artist's Bio
Anya Coxworth is a self taught painter born in Flint Michigan in 1971 relocating to Portland Oregon in 1999. Inspired as a child by her artist father she began experimenting with color and lines. Anya has now been painting whimsical portraits, landscapes, and originals for 29 years. She has sold her work locally and internationally for the last 16 yrs. While in Portland she gave a lecture on her work at Portland Community College during the annual Artbeat event in 2006 and has donated pieces to Habitat for Humanity and Oregon Health and Sciences University benefit auctions. The Regional Arts and Culture Council of Portland accepted an original painting of Anya's for the cities permanent collection. Anya currently resides between Portland and Yamhill Oregon. To view more work visit Anya Coxworth on Facebook and to commission work email her at anyamarie71@gmail.com.
Karen Story
Artist's Bio
Majoring in printmaking and painting at PNCA in Portland, Oregon, Karen was the recipient of the Louis Bunce Scholarship award, the Printmaking Department scholarship award, and the Local 10 Scholarship award. Her work is owned by the Portland Art Museum and by many private collectors, and can be seen at Alberta Street Gallery (Portland, OR) and RiverSea Gallery (Astoria, OR).
Karen works primarily in encaustic, which guides the artist to work on the canvas in a direct and flexible way. This allows for unexpected changes in composition, form, texture, and color. Layering and removal of layers keeps this process-oriented painting method archealogical in nature, as there is much digging back into and revealing the often forgotten history of the painting. A certain non-attachment to the current phase of the painting develops, and allows for a freedom not experienced in other media.
Olive Eng
Artist's Bio
Born in San Antonio, Texas, Olive Eng's parents were originally from the Guangzhou province of China. Olive grew up with a unique blend of both eastern and western influences. The family moved to California when she was a teenager. After receiving her Bachelor's Degree from UCLA and her Master's Degree from USC, Olive worked for the LA City Schools for 20 years. When it came time to retire, Olive moved north to Portland and moved into the Rose Schnitzer Manor. She began dabbling in painting, taking collage and water color classes at the Multnomah Art Center (MAC). Over time, Olive really began to develop her distinctive style of art using a blend of paint — both acrylic and water color — colored papers, print material and other mixed media.
Olive has shown her work at the Pacific Art Guild in Los Angeles, the Festival for the Arts in Lake Oswego, the Oregon Society of Artists, the Ageless Art Exhibit, part of the Oregon Alliance of Senior and Health services (now LeadingAge Oregon), and in 2011 had her first solo exhibit at Stonehenge Studio in John's Landing.
Patricia Giraud
Artist's Statement
The seeds for my imagery were planted long ago. I have always been intrigued by the complexity and immediacy of the natural world. My childhood days were spent outdoors, quietly exploring shallow streams, scooping up tadpoles, and seizing the opportunity to be near any animal but especially horses.
Working with horses for decades allowed the opportunity to observe how they function and think – to celebrate their form, their nature. Inspired, I began recording, through photography, the essential relationship between horse and rider. The process-rich medium of printmaking brought a new dimension to my explorations of nature on paper. Intaglio offers a variety of techniques with which to express anatomy, forms shaped by light and shadow, large forces at work and intimate moments.
Initially, the horse was chosen as a totem around which the nuances of relationship, trust, vulnerability and stewardship were considered. More recently, I have expanded those themes to include figures in natural environments–drawing upon memories while interpreting the shapes, textures found in the landscape.
Violet Blackworth
Artist's Bio
I'm fortunate to have spent years in Spain, Paris, Berlin, and Tunisia, as well as traveling over the globe from Africa to Malaysia, Japan, Hawaii, Sri Lanka and India.Also I must give thanks to the fact that I grew up surrounded with good design, from an early age supplied with art materials. My father, John A. Kapel, the renowned designer, would give me advice at times, commenting briefly upon my collages, batiks, mosaics, masks and paintings. I sold my first works of art at ten, four batiks that resembled paintings, and ever since then I've been living and breathing art.
Among artists I've known in my life, Leonor Fini was most influential. She was my muse when I entered my twenties and started to paint in earnest, turning out dark very colorful semi-abstracts. Many depicted fantastic beings both beautiful and demonic—phantoms from dreams or nightmares
that tempted me, drove me, and pushed me to paint with intensity. Always I was tormented by an occult yet illuminating force—unknown, ephemeral, maybe magnificent, or perhaps fatal like an immense jungle flower concealing a venomous snake.
Other projects included a film in the 80's that Fassbinder would have directed except for his untimely death, house renovations in styles from rustic to solar to Danish modern, ecological thinning of drought-stricken forest at risk of fire, and raising full-blooded wolves to live in the wilderness. Throughout, I continued my artistic work, moving from drawings and paintings to computer graphics when programs for art first came out.
Recently I spent some years in Tunisia painting on silk and designing clothes. Upon my return to the States, I shifted into photography. At the same time I developed a singular style in photo-montage. Initial works utilized photos from magazines and other publications — then I began to use photos I'd taken, combining work in "photopainting" with computer graphics for special effects.
Currently I work in three related but fairly separate mediums: photo-montage, photography, and a special technique I call "phainting," creating works both painterly and photographic.
Denise Sirchie
Artist's Statement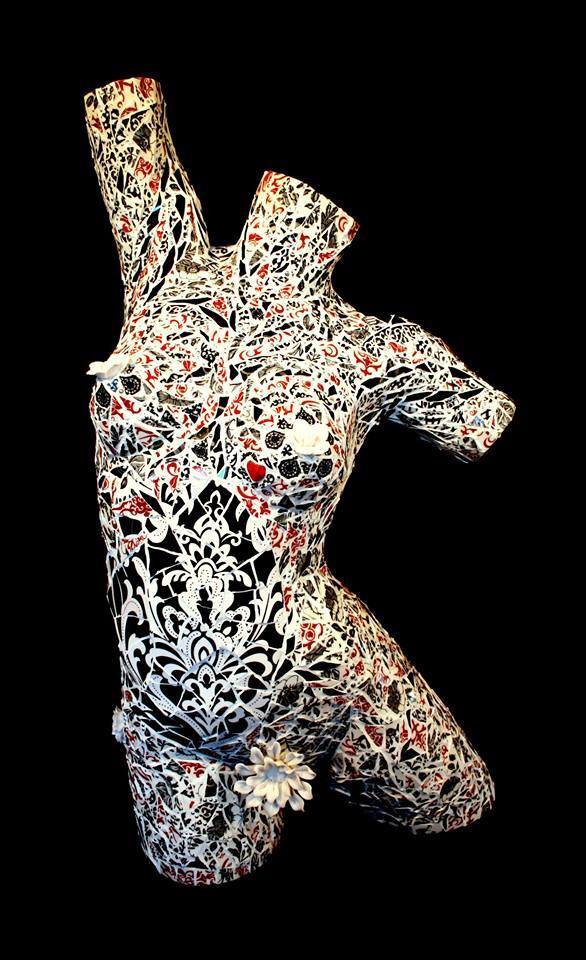 My passion for art was awakened around the age of 9; I attended an art class every Saturday each summer through the age of 14. I was taught the basics: sketching, oil painting, pastels, charcoal, still life and portraiture by an inspiring, memorable teacher. As maturity permitted, a short train ride into Philadelphia allowed me to attend the Philadelphia College of Art. I acquired independence, a taste of city life, but more importantly.new eyes. I believe it was then that I began seeing not the ordinary, but the unique possibilities within simplicity.
After college and several years of traveling, I settled in California. Pottery lured my interest and after 4 years of mastering the wheel, clay and porcelain became my new best friends. Upon marrying and then the birth of my son, my art transitioned once more, this time through a child's eyes: simplicity in form, with bold, contrasting colors … as innocent and beautiful as a child. A few years later, we migrated north and settled in Portland. Life was sailing along smoothly until an early diagnosis of breast cancer. Lights flashed, sirens screamed, treatments commenced, and realizations surfaced.
Therapy for my soul and mind was found in mosaics. I had always admired the media; my husband supported my interest and insisted I give it a try. Self-taught through the help of books and friends' advice, I became immersed.
Ten years later, the passion to create and the desire to stay healthy is joined in a marriage of determination. The direction of my art is constantly in motion. The freedom that the media allows is alarming: the reason I love it so. As Ralph Waldo Emerson summarizes: "Artists must be sacrificed to their art. Like bees, they must put their lives into the sting they give." Bzzzzzzzzzzzz