Meet Artist Suzanne Vaughan at Village Frame & Gallery this Friday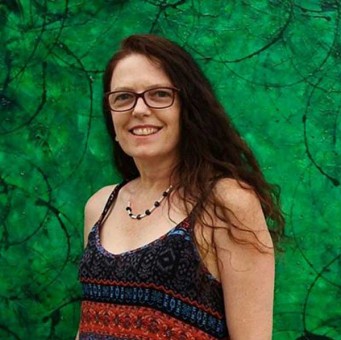 Every good story starts at the beginning, and the start of Suzanne Vaughan's tale lies deep within the heart of Auckland City, New Zealand. Even
as a young child, she absorbed and appreciated the intense vibrancy of the landscape, paying close attention to textures, shapes, horizons, and colors. As she evolved into a woman, she brought with her the inspirations of her childhood and stored them away deep in her subconscious, allowing them to simmer and expand. During the years post and prior to her relocation to America, Suzanne Vaughan's passion for painting ignited. Her recent works, the Portal series and Cityscape series, embody that explosion of color from within and trace her progression through trying times.
Her painting process involves an energetic, flowing, and rhythmic application of paint. In the Portal series, multiple layers of pigments and tinted
glazes are overlaid generating a luminous glow that suspends flicks, drips, and brushstrokes of paint. Her Cityscape and Landscape paintings are treated with the sharp strokes of palette knives to build up heavily pigmented and textural layers that are often scraped to reveal merging and interacting color complexities. There is a degree of intuition involved, an element of surprise, a dynamic interaction with the unfolding images, color, and textural variances.
However, the most important part of the creative process is the way she can fully immerse herself into her works. Art is about creating an alternate world within reality, where the stresses and troubles of the world evaporate, and where there is only room for one thing: art. "I have to do it," she says, "it is an ingrained and vital part of who I am."
Portals and Cityscapes by Suzanne Vaughan opens Friday, December 4, 2015, 6 – 9 p.m. at Village Frame and Gallery, 7808 SW Capitol Hwy, Portland, OR 97219. This exhibit is open to the public, at no charge. Can't make it Friday? Stop by during regular business hours, Tuesday – Saturday
10 am – 6 pm, throughout December.
In the meantime, here's a sneak peek of this vibrant show: