Village Frame & Gallery is pleased to present the latest series of artwork by Dianne Jean Erickson – STACKED, A Dialog with Line and Color. This series of paintings in oil and cold wax, and encaustic marries bold color with intriguing layers creating works you just can't take your eyes from. They are perfect for your modern or mid century home and will bring a strong modern twist to any traditional setting.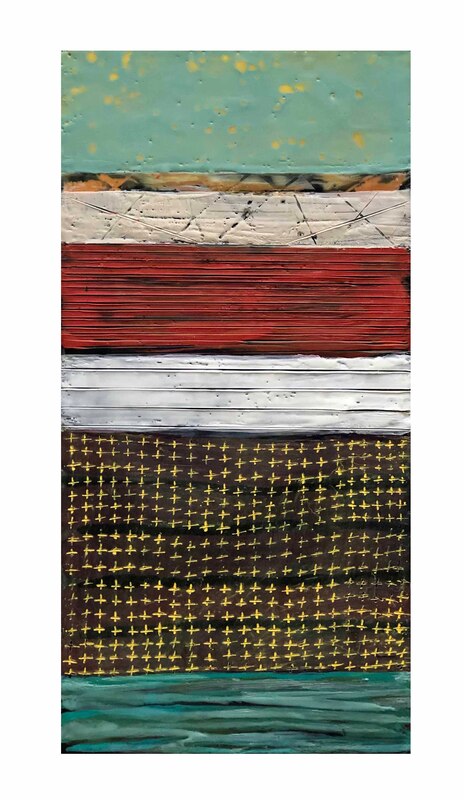 Artist Reception September 3rd, 5-7 pm
Join us on First Friday, September 3rd from 5 to 7 pm for a reception celebrating STACKED, A Dialog with Line and Color by Dianne Jean Erickson. Dianne will be on hand to meet you and discuss her new work. And ask her about Art in the Village, Dianne's new venture with Donna Sanson in the Village!
About STACKED, A Dialog with Line and Color
A few years ago I created a series of encaustic monotypes on paper and titled the series "Stacks." The idea came to me when I remembered that a friend, who was at my home for the first time, said "You have a lot of stacks of stuff." Yes I did, a stack of books waiting to be read, a few magazines stacked on the coffee table, and of course, stacks of artwork and sketchbooks here and there. I also love the work of artists who have arranged piles of blankets, clothes and other items that I've seen in my stacks of art magazines.

This year I decided to revisit my Stacks series, but this time using canvas and wood substrates with oil, cold wax and encaustic as my medium. I decided to differentiate between the paper stacks and these new pieces on wood and canvas by calling them "STACKED" (See some of my "Stacks" encaustic monotypes in the print print bin!)

Many of the pieces are painted over previous paintings that I never finished. They already had a history of paint which meant I had the opportunity to let this history emerge through the new application of paint. On the new oil & cold wax substrates I often paint wildly using acrylic, and in a random fashion to give the piece some history of it's own. "Stacked (Pink/Brown)" is an example, a large section of the acrylic painting reveals itself under a glaze of pink/brown oil and cold wax.
Each painting has a buildup of many layers of paint as I figure out line widths and colors. I am fascinated with the interplay of color and shape, and how even a subtle change in color or the width of a line can make such a difference. I also look for opportunities to let previous color show through, just enough to surprise the viewer when giving the piece a closer look. I enjoy working in a series. Many idea for a new painting happen while working on a current one, offering a chance to explore more of the endless possibilities.

– – Dianne Jean Erickson
Village Frame and Gallery is located at 7808 SW Capitol Highway, Portland 97219 in the heart of Multnomah Village. Our regular hours are Tuesday through Friday, 10 am to 4 pm and Saturday 10 am to 2 pm.