Want Your Own Set of "We the People" Posters? Come to Village Frame & Gallery!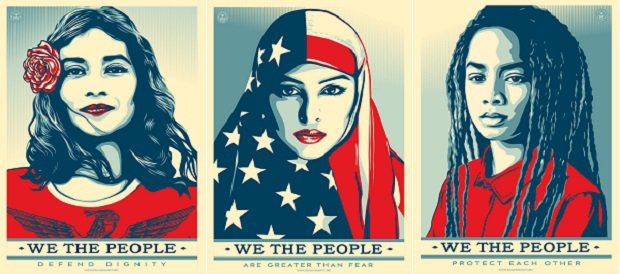 "It's really about making sure that people remember that 'we the people' means everyone, it means all the people. I think the campaigns were very divisive, more from one side than the other. But (it's) just reminding people to find their common humanity, and look beyond maybe one narrow definition of what it means to be American."

— Shepard Fairey
Have you seen Shepard Fairey's artwork for the inauguration? Were you touched by it? We were too — and I had to get a set. So, I got several 9×12 sets, which will be framed and available for sale in the Gallery starting tomorrow. I have limited quantities  so get here before they're gone! 100% of the proceeds will be donated to the ACLU. 
Need Custom Framing? Save 15% in February!
Have something of your own you want framed? Now is the time to do it. Bring in this coupon (or just pull up this blog post on your phone) and we'll give you 15% off your next framing order. And yes, we still have a few designer mirrors on clearance.
See You Soon!
As always, we're open Tuesday – Saturday, 10 am – 6 pm, at 7808 SW Capitol Hwy, Portland, OR 97219.