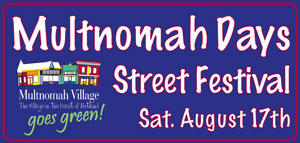 SW Portland's biggest community celebration is coming to Multnomah Village again this summer on Saturday, August 17. Multnomah Days' crowd-pleasing parade – attended by literally thousands – begins at 10 a.m. An all-day street fair follows with local food, music, a wine garden, arts and crafts, and a chance to test your skills at the ping pong table. Live music and interactive booths will keep the fun going until 4 pm. After months of construction, this year's "The Village Goes Green" theme will celebrate Multnomah Village's new "green street" run-off and pollution reduction facilities. Attendees should be sure to stop by the energy fair, which will showcase ways to go green at home and at work.
Organized by the Multnomah Village Business Association with the help of community sponsors, this annual street fair takes place on Capitol Highway between SW 33rd and SW 39th –Multnomah Village's main street. It's our 105th anniversary year, so, drive, walk, bike or bus on over to enjoy a full day of fun for the whole family. Parking is available on the street as well as at the Multnomah Art Center. TriMet buses 44 and 45 serve the community, and the area is easily accessed by bicycle.
Multnomah Days Special: Subscribe to Village Frame & Gallery's new e-newsetter and you could win a print.
Click Poster to Enlarge