Although Madeline Janovec passed away March 4, 2011, she is still one of Portland's favorite artists. She left an indelible impression on everyone who knew her. This month, Village Frame & Gallery is featuring Madeline's work in a special exhibit on display in the gallery. Join us for First Friday, November 3rd to see Madeline's work in person.
Monotype Thoughts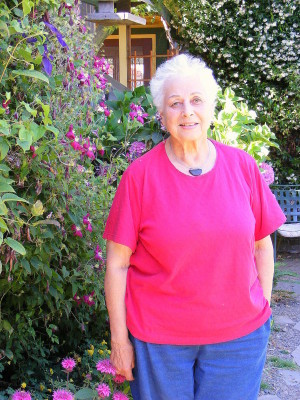 On many of Madeline's pieces she wrote about her work, how it was created and how it made her feel. We're happy to share her thoughts.
"This original monotype was created in the studio of Madeline Janovec – there is no other copy. The monotype is an image created on a blank plate made of copper, zinc, glass or stone. Brushes, rollers, rags, finger are used to apply and remove the ink from the plate. Then printed with a hand-cranked etching press, the same as it was in the sixteen hundreds, nothing is physically fixed on the plate, thus creating a freedom and spontaneity unavailable in other printmaking process. There is only one print created – mono=one; type=printing. This is a painterly print. Like an oil painting, there is only ONE!
"The following Seventh Century poem will give you a feeling of what I feel and think my work is about…
I would not paint a face,
a rock, nor brooks, nor trees,
mere semblances of things,
but something more than these.
That Art is best to which
the soul's range gives no
bound. Something beside
the Sound.
                       – – 7th Century Chinese Poem
"Madeline Janovec, Portland, Oregon"
Read more about Madeline and her work here. The exhibit will run through the end of November and like all our exhibits, is free to the public.
Join us for First Friday!
Stop in the Gallery on First Friday and enjoy Madeline's work – many pieces are being sold at significantly reduced prices! Afterward, do some shopping or grab a bite in Multnomah Village.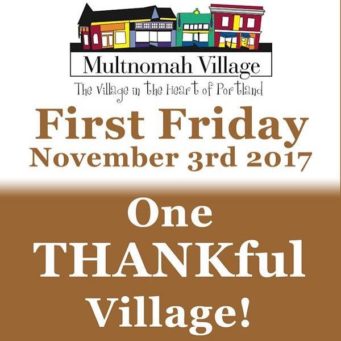 Village Frame and Gallery is open Tuesday – Saturday, 10 am to 6 pm. We are located at 7808 SW Capitol Hwy, Portland, OR 97219.