Featured artist Susan Kuznitsky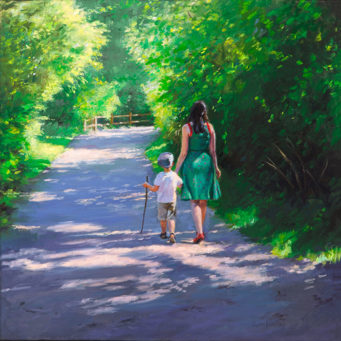 Village Frame & Gallery is pleased to feature local artist Susan Kuznitsky in the gallery with oil and pastel paintings in a show we call Walk Breathe. Susan writes:
"I have never appreciated the peace and safety of my home as much as I do now. The outside world has never felt as scary. I make it a point to remind myself each day how lucky I am to be here at the end of my road, in the woods, surrounded by nature and most recently, my hummingbirds that have finally found my feeder. Don't get me wrong, it has been no picnic adjusting to this new lifestyle. Me, myself and I can get pretty down in the dumps!
"Enter Zoom… After a crash course on learning how to use Zoom, I am teaching Pastel Classes Online. And loving it! I am also using Zoom to connect with other artists all over the country as we support each other in this new world, as well as staying connected with friends and family.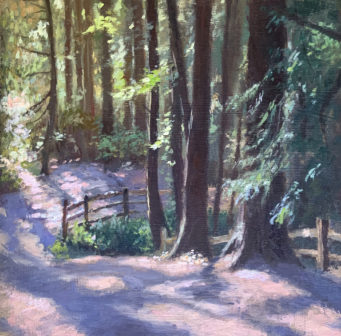 "As part of my 'The Art of Staying at Home' therapy I painted a series of oil paintings from photos I took while walking through the beautiful woods at Gabrielle Park near my home. Walking in the woods is the other way I have been keeping myself sane."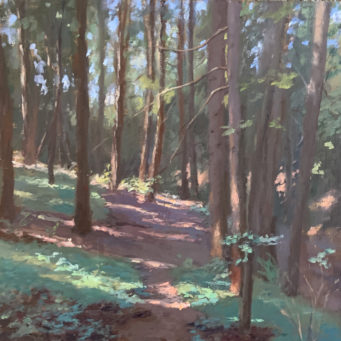 Check out Susan's website with paintings, workshop information and how to commission paintings by Susan, it's worth a look! The address is www.susankuznitsky.com.
Intaglio prints in the windows by Jeanette Nuxoll and outdoor dining at Casa Vacca Italian Bistro & Bar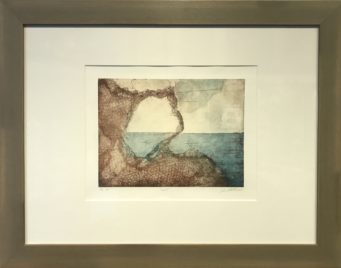 We are happy to welcome Jeanette Nuxoll back to the gallery windows! Now is a perfect time to stroll by the shop, stop at the new Casa Vacca Italian Bistro & Bar alfresco dining area for a bite and beverage (check out their new menu and hours here) and enjoy Jeanette's artwork in our windows! Read more about Jeanette Nuxoll here.
Miss the Dusty Divas show?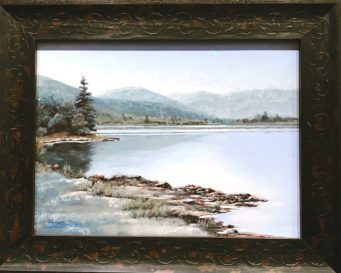 Dusty Diva Donna Stevens has a new website where you can view her lovely pastels including Serenity, above. Her website is www.donnastevensfineart.com.
Yes, we're open!
Yes, we're open! We have temporarily changed our hours to allow for proper sanitizing and reduced staff, but we are excited to welcome you back to the gallery. We're happy to work with you in the gallery during business hours, by appointment after hours and virtually via telephone, email and text. We look forward to your next project!
Village Frame and Gallery is located at 7808 SW Capitol Highway, Portland 97219 in the heart of Multnomah Village. Our adjusted regular hours are Tuesday through Friday, 10 am to 4 pm and Saturday, 10 am to 2 pm. You can call us at 503-245-8001.